Gwiazdy

»

Czy Magdalena Schejbal jest gotowa zostać... żoną?
Czy Magdalena Schejbal jest gotowa zostać... żoną?
Czwartek, 2 sierpnia 2012 (09:33)
Magdalena Schejbal coraz poważniej myśli o zalegalizowaniu swojego związku z przystojnym góralem Sławomirem Ziębą-Drzymalskim. Podobno jest już gotowa, by zostać żoną!
Zdjęcie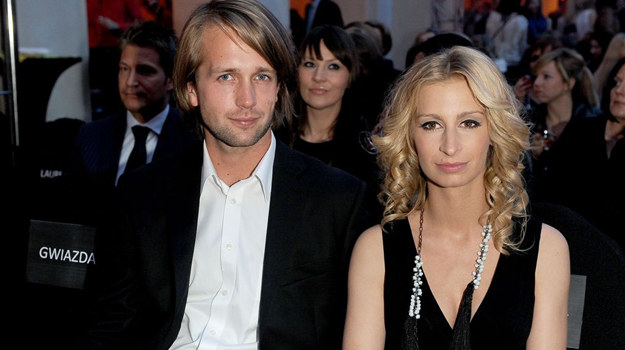 Magdalena Schejbal ze Sławkiem Ziębą-Drzymalskim
Magda i Sławek poznali się w 2010 roku w Zakopanem na planie serialu "Szpilki na Giewoncie", w którym oboje zagrali. O tym, że połączyło ich wielkie uczucie, długo nie wiedzieli nawet najbliżsi współpracownicy aktorki. Dopiero gdy okazało się, że Magda jest w ciąży, prawda o ich uczuciu wyszła na jaw.
- Przy Sławku, który jest też moim menadżerem, mam pewność, że jestem w dobrych rękach - powiedziała niedawno Magdalena Schejbal.
Aktorka potwierdziła również, że dzięki ukochanemu zrozumiała, jak ważna w jej życiu jest rodzina.
- Dla górali rodzina jest świętością, a miłość to ciężka praca, wyrzeczenia, kompromisy i dialog oparty na szacunku - mówi Magda.
- Jesteśmy szczęśliwi - krótko odpowiada, pytana o jej związek ze Sławkiem.
Magda zdaje sobie sprawę, jak ważna dla jej partnera jest tradycja i wartości rodzinne. Wie to również ojciec aktorki, Jerzy Schejbal, czyli Tomasz z "Życia nad rozlewiskiem", który miał kiedyś żal do córki o to, że niezbyt rozsądnie kieruje swoim życiem prywatnym i nie rozumie, że nie ma nic ważniejszego od rodziny. Był bardzo rozżalony, kiedy Magda rozstała się z ojcem swojego 3,5-letniego dziś synka Ignasia, ale gdy dowiedział się, że jej nowym partnerem jest góral z krwi i kości, nie krył radości. Jerzy Schejbal wierzy, że Sławkowi uda się w końcu namówić Magdalenę na ślub. Sam pochodzi z gór i wie, że prawdziwi górale, a za takiego uważa Ziębę-Drzymalskiego, potrafią postawić na swoim. Jest pewny, że niedługo zatańczy na weselu córki.


Artykuł pochodzi z kategorii:
Gwiazdy
Agencja W. Impact
polski i
Tele Tydzień
Ogólnotematyczne
Filmowe
Serialowe
Dla dzieci
Sportowe
Muzyczne
Tematyczne
Dokumentalne
Informacyjne
Regionalne
DVB-T
HD
Ogólnotematyczne
Filmowe
Serialowe
Dla dzieci
Sportowe
Muzyczne
Tematyczne
Dokumentalne
Informacyjne
Regionalne
HD