Gwiazdy

»

Małaszyński nagrał płytę i rusza w trasę koncertową
Małaszyński nagrał płytę i rusza w trasę koncertową
Wtorek, 12 czerwca 2012 (10:02)
W sklepach muzycznych można już kupić najnowszą płytę zespołu Cochise, którego wokalistą jest... Paweł Małaszyński, czyli Maks z nowego serialu "Lekarze". To już drugi krążek wydany przez grupę założoną przez Pawła i jego przyjaciół !
Zdjęcie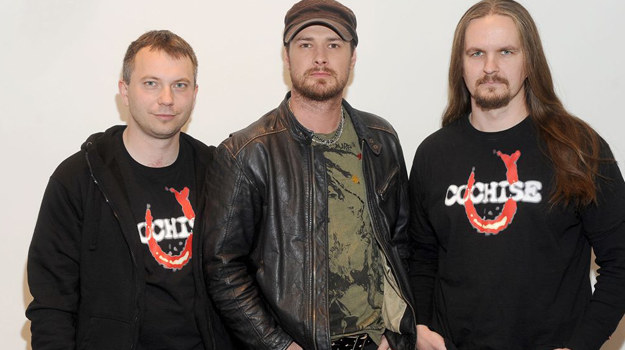 Grupa Cochise
Choć Paweł Małaszyński jest bardzo zajętym aktorem, stara się nie zaniedbywać fanów białostockiego zespołu Cochise, który założył razem z kolegami w 2004 roku. Na rynku ukazała się niedawno druga płyta grupy, a Paweł i jego przyjaciele ruszyli w trasę koncertową. W wakacje posłuchać ich będzie można na żywo m.in. na Zlocie Motocyklowym w Polanowie koło Koszalina, w Szczecinie i w Płocku.
Album "Back To Beginning" ("Powrót do początku") zawiera 16 kompozycji autorstwa Cochise utrzymanych w konwencji klasycznego rocka, grunge'u i metalu oraz jeden cover - utwór z repertuaru legendarnego zespołu The Doors "Five To One".
- Czerpiemy z różnych gatunków, bo każdy z członków zespołu wychował się na innej muzyce. Ja siedzę w grunge'u, chłopaki w metalu, nasz perkusista jest muzykiem progresywnym, więc te wszystkie inspiracje się łączą - powiedział Paweł Małaszyński, pytany, jakiej muzyki mogą się spodziewać słuchacze nowej płyty Cochise.
"Back To Beginning" to już drugi album grupy Pawła. Debiutancki krążek Cochise zatytułowany "Still Alive" odniósł spory sukces.
- Trudno mi oceniać płytę, którą nagraliśmy, bo nie mam do niej dystansu. Razem z chłopakami daliśmy z siebie wszystko i jest tam cała nasza miłość do muzyki, do życia, eksperymentów i doświadczeń - opowiadał Paweł Małaszyński w wywiadzie na temat nowej płyty swojego zespołu.
Paweł zdaje sobie sprawę, że muzyka, jaką nagrywa i jaką razem z kolegami gra na koncertach, nie jest muzyką popularną i nie gości często na antenach rozgłośni radiowych. 
- Chciałbym, żeby muzyka niszowa, taka jak nasza czy innych zespołów grających podobnie, zalała ulice miast prawdziwym rockiem. Bo trochę tego brudnego rocka nam brakuje - mówi aktor i wokalista.
Artykuł pochodzi z kategorii:
Gwiazdy
Agencja W. Impact
polski i
Tele Tydzień
Ogólnotematyczne
Filmowe
Serialowe
Dla dzieci
Sportowe
Muzyczne
Tematyczne
Dokumentalne
Informacyjne
Regionalne
DVB-T
HD
Ogólnotematyczne
Filmowe
Serialowe
Dla dzieci
Sportowe
Muzyczne
Tematyczne
Dokumentalne
Informacyjne
Regionalne
HD