O hipsterach z aktorkami
Czwartek, 26 stycznia 2012 (10:24)
Wytropić hipsterów i ustalić, po czym ich poznać, pomagają nam m.in. aktorki Julia Pietrucha i Marieta Żukowska. A może same są hipsterami?
Zdjęcie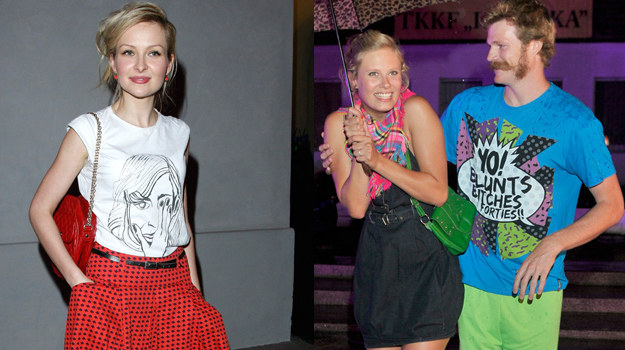 Marieta Żukowska, Julia Pietrucha i Ian Dow
Potrafimy ich rozpoznać na ulicy i wskazać palcem, ale nie wiemy, jakie mają poglądy i w co wierzą. Na początku uważani za elitarną subkulturę miejską, szybko stali się obiektem drwin. Kim tak naprawdę są mityczni hipsterzy i czy w ogóle istnieją?
Z Julią Pietruchą spotykamy się w modnej klubokawiarni na warszawskiej Ochocie. Aktorka trzyma w ręku iPada i czyta na głos: "Nikt właściwie nie jest pewien, jak wyglądają. Za punkt honoru postawili sobie oryginalność. Są tak wyjątkowi, że w skali oryginalności od 1 do 10 są siedemnastką". Tak brzmi definicja hipsterów, nowej wielkomiejskiej subkultury, znaleziona na jednej ze stron internetowych. Niewiele to wyjaśnia, więc ustalamy listę gadżetów, po których można rozpoznać przedstawiciela tego gatunku. Jest długa, ale precyzyjna: ciuchy z second- -handu, które wyglądają na wyciągnięte z babcinej szafy, flanelowe koszule, oldschoolowe dodatki, ultraobcisłe spodnie, trampki Converse, okulary w grubej oprawie, najlepiej firmy Ray-Ban, stary rower holenderski z koszyczkiem z przodu, iPhone i komputer marki Apple. Julia większość tych przedmiotów posiada, ale zapewnia, że nie utożsamia się z tą subkulturą. Jednak żaden hipster nie powie, że nim jest. Po pierwsze, należy unikać szufladkowania, a po drugie, słowo "hipster" to dziś w popkulturze synonim "obciachu". A skoro nikt do bycia hipsterem oficjalnie się nie przyznaje, nie powstała też żadna definicja tego zjawiska.
Artykuł pochodzi z kategorii:
Gwiazdy
Tekst pochodzi z magazynu

polski i
Tele Tydzień
Ogólnotematyczne
Filmowe
Serialowe
Dla dzieci
Sportowe
Muzyczne
Tematyczne
Dokumentalne
Informacyjne
Regionalne
DVB-T
HD
Ogólnotematyczne
Filmowe
Serialowe
Dla dzieci
Sportowe
Muzyczne
Tematyczne
Dokumentalne
Informacyjne
Regionalne
HD