Przygoda w raju
Wtorek, 20 marca 2012 (11:32)
Jennifer Aniston rok temu zerwała z wizerunkiem słodkiej ulubienicy Ameryki i została wampem. W najnowszej komedii "Raj na ziemi" jej bohaterka prosto z Nowego Jorku trafia do hipisowskiej komuny pełnej... nudystów.
Zdjęcie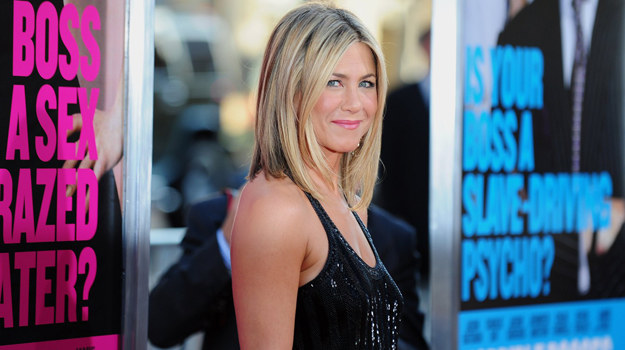 Uważana za boginię dobrego smaku i akuratności Jennifer zaszokowała w ubiegłym roku prowokującym tatuażem i rolą opętanej seksem dentystki w komedii "Szefowie wrogowie". Tak drastyczną zmianę wizerunku ulubienicy Ameryki komentowano na różne sposoby sugerując nawet, że Aniston ma kłopoty z tożsamością i przechodzi kryzys wieku średniego. 
Tymczasem sama Jennifer przyznała, że dawno nie czuła się tak szczęśliwa i spełniona. Na planie swojej najnowszej komedii "Raj na ziemi" bawiła się równie dobrze, jak 10 lat temu podczas pracy nad serialem "Przyjaciele", który przyniósł jej popularność i pozycję najlepiej opłacanej gwiazdy Hollywood. - To było to samo poczucie wspólnoty i bliskości. Siedzieliśmy wszyscy razem gdzieś na końcu świata, nad jeziorem. Razem gotowaliśmy i spędzaliśmy weekendy - wspomina. Ale to nie koniec rewelacji.

W jednej ze scen "Raju na ziemi", Jennifer grająca dziewczynę z Nowego Jorku pragnącą skosztować hipisowskiego stylu życia, pojawiła się topless! - Nie miałam z tym problemu. Kiedy zaprzyjaźniłam się z całą ekipą, nagość nie robiła na mnie wrażenia - mówiła w wywiadach, ale potem poprosiła jednak o wycięcie zbyt odważnych ujęć. Na planie komedii doszło bowiem do jeszcze jednego brzemiennego w skutki wydarzenia.

Aniston poznała młodszego o trzy lata aktora i scenarzystę Justina Theroux, w którym jest "po uszy" zakochana. Teraz inaczej patrzy na świat i siebie. Być może wybaczy nawet Angelinie Jolie związek ze swoim byłym mężem Bradem Pittem. Pierwszy krok wykonała w tym roku gratulując eksrywalce reżyserskiego debiutu - za film "The Land of Blood And Honey" Jolie otrzymała nominację do Złotego Globu. Pewności siebie dodała jej też odsłonięta niedawno własna gwiazda w Alei Sław w Los Angeles. - Wszystko układa się wspaniale, nie musicie już trzymać za mnie kciuków. Do końca roku wyjdę za mąż - powiedziała szczęśliwa Jennifer podczas uroczystości.
Magdalena Poulain

Artykuł pochodzi z kategorii:
Gwiazdy

polski i
Tele Tydzień
Ogólnotematyczne
Filmowe
Serialowe
Dla dzieci
Sportowe
Muzyczne
Tematyczne
Dokumentalne
Informacyjne
Regionalne
DVB-T
HD
Ogólnotematyczne
Filmowe
Serialowe
Dla dzieci
Sportowe
Muzyczne
Tematyczne
Dokumentalne
Informacyjne
Regionalne
HD