Gwiazdy

»

Seniuk lubi występować przed... dzieciakami
Seniuk lubi występować przed... dzieciakami
Czwartek, 2 lutego 2012 (08:44)
Anna Seniuk, czyli Adela - matka Joanny z "Ja to mam szczęście!", przyznaje, że uwielbia występować przed publicznością dziecięcą i zawsze robi to z wielką radością.
Zdjęcie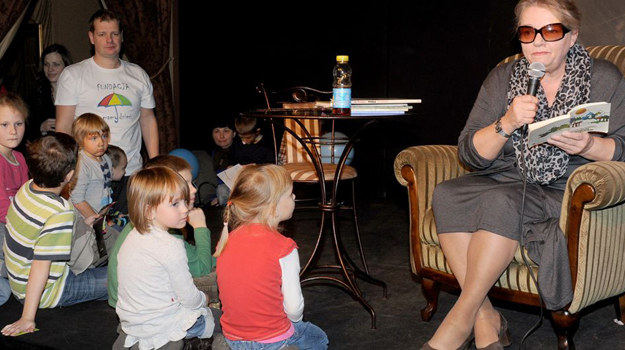 - Dzieci są bardzo wdzięczną widownią, mają ogromną wyobraźnię i nie potrafią kłamać. Kiedy coś im się nie podoba, od razu to widać - kręcą się, patrzą w ścianę, w sufit. Trzeba cały czas się pilnować i trzymać rękę na pulsie - mówi aktorka.
Anna Seniuk wspomina, że kiedy sama była dzieckiem, lubiła czytać bajki. W czasach, gdy nie było jeszcze telewizji i internetu, niemal cały swój wolny czas poświęcała na czytanie. Często czytali jej też rodzice.
- Nie wyobrażam sobie dzieciństwa bez bajek Brzechwy, błyskotliwych, dowcipnych i mądrych opowiastek, które wciąż są bardzo aktualne - twierdzi niezapomniana Madzia Karwowska z "Czterdziestolatka".
Anna Seniuk często zgadza się na udział w różnego rodzaju akcjach charytatywnych mających pomóc chorym dzieciom. Można ją czasem spotkać w szpitalach dziecięcych, kiedy czyta bajki najmłodszym pacjentom. W jej repertuarze od lat jedną z najważniejszych pozycji jest "Pchła Szachrajka". Wyreżyserowała nawet spektakl muzyczny na podstawie utworu Jana Brzechwy. Wszędzie, gdzie jest on pokazywany, publiczność jest zachwycona! Anna Seniuk żartuje, że znalazła sposób na to, jak zainteresować współczesne maluchy bajkami, które powstały dawno temu.
- Trzeba samemu uwierzyć w historie z tych bajek - śmieje się aktorka.
Artykuł pochodzi z kategorii:
Gwiazdy
Agencja W. Impact
polski i
Tele Tydzień
Ogólnotematyczne
Filmowe
Serialowe
Dla dzieci
Sportowe
Muzyczne
Tematyczne
Dokumentalne
Informacyjne
Regionalne
DVB-T
HD
polski i
Tele Tydzień
Ogólnotematyczne
Filmowe
Serialowe
Dla dzieci
Sportowe
Muzyczne
Tematyczne
Dokumentalne
Informacyjne
Regionalne
HD