Gwiazdy

»

W Sylwestra Szyc zamierza się... oświadczyć!
W Sylwestra Szyc zamierza się... oświadczyć!
Czwartek, 27 grudnia 2012 (09:27)
Borys Szyc, czyli Jerzy Knappe z "Przepisu na życie", bardzo poważnie myśli o pożegnaniu stanu kawalerskiego! Podobno w ostatnią noc tego roku chce oświadczyć się swej wybrance, stylistce Zosi Ślotale...
Zdjęcie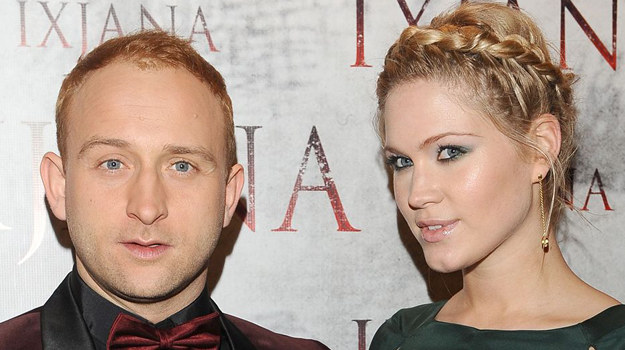 Borys Szyc i Zofia Ślotała
- Po pierwsze kobiety, po drugie kobiety, po trzecie kobiety - mówił jeszcze niedawno Borys Szyc, pytany, co jest dla niego najważniejsze w życiu.
Od dnia, w którym aktor poznał Zosię Ślotałę, coś się jednak w jego myśleniu o życiu zmieniło! Teraz podobno świata nie widzi poza ukochaną i jest gotowy zrezygnować dla niej ze wszystkich uroków kawalerskiego życia. Jak podaje jeden z tygodników, Borys zamierza poprosić ukochaną o rękę w Sylwestra. Chciałby poślubić Zosię tak szybko, jak to tylko możliwe!
Borys Szyc ma opinię mężczyzny, który złamał już wiele kobiecych serc. Kilka lat temu był już bardzo blisko żeniaczki, ale związek z Anną Bareją - jego ówczesną partnerką i matką jego córeczki Soni - zakończył się, zanim aktor zdążył się oświadczyć. Na zaręczynowy pierścionek od Borysa liczyła też Kaja Śródka. Niestety, ona również nie doczekała się na oświadczyny...
Znajomi Borysa twierdzą, że dzięki Zosi Ślotale aktor zrozumiał wreszcie, iż życie to nie tylko beztroska zabawa i spotkania z przyjaciółmi przeciągające się często do białego rana, ale także rodzina, dom i... obowiązki. Nadchodzący 2013 rok może się więc okazać przełomowym w życiu serialowego Jerzego Knappe z "Przepisu na życie". Jeśli wszystko ułoży się po jego myśli, w najbliższe miesiące szykować się będzie do ślubu z Zosią!
Artykuł pochodzi z kategorii:
Gwiazdy
Agencja W. Impact
polski i
Tele Tydzień
Ogólnotematyczne
Filmowe
Serialowe
Dla dzieci
Sportowe
Muzyczne
Tematyczne
Dokumentalne
Informacyjne
Regionalne
DVB-T
HD
Ogólnotematyczne
Filmowe
Serialowe
Dla dzieci
Sportowe
Muzyczne
Tematyczne
Dokumentalne
Informacyjne
Regionalne
HD