Gwiazdy

»

Wielki aktor żegna się z widzami
Wielki aktor żegna się z widzami
Piątek, 23 marca 2012 (11:15)
Jan Kobuszewski, czyli Jan Buszewski z pierwszego polskiego serialu "Barbara i Jan", postanowił pożegnać się z aktorstwem i przejść na emeryturę. Zanim to jednak nastąpi, wspaniałego aktora będzie można podziwiać w widowisku "Dusza Kobusza", które inauguruje działalność nowej sceny Teatru Kwadrat.
Zdjęcie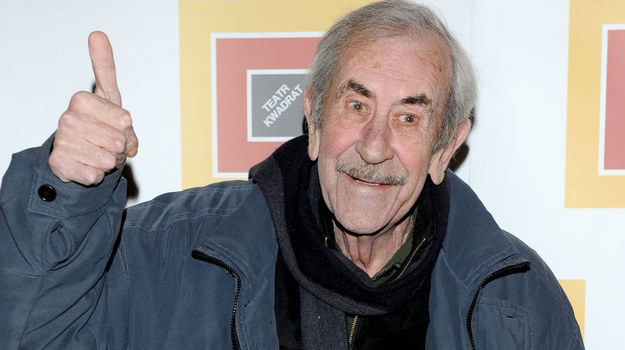 Jan Kobuszewski związany jest ze stołecznym Teatrem Kwadrat już od 36 lat. Nic dziwnego, że to właśnie on wybrany został na gwiazdę przedstawienia, które zainauguruje nowy etap działalności "kwadratowej" sceny. Dziś po raz pierwszy zespół Kwadratu z Janem Kobuszewskim na czele zagra w nowej siedzibie - w samym sercu Warszawy - na ulicy Marszałkowskiej w dawnym Teatrze Bajka.W przedstawieniu "Dusza Kobusza" wystąpią niemal wszystkie gwiazdy prowadzonego przez Andrzeja Nejmana teatru.

Spektakl został przygotowany kilka miesięcy temu jako widowisko z okazji jubileuszu 55-lecia pracy artystycznej Jana Kobuszewskiego. Nie planowano powtórek przedstawienia, ale widzowie domagali się kolejnych spotkań ze swoim ulubionym aktorem, więc po niewielkich zmianach "Dusza Kobusza" wchodzi dziś - 23 marca - na afisz Kwadratu. Zaplanowano tylko 18 przedstawień! Później, pod koniec maja, rozpocznie się remont teatru i przygotowania do kolejnego sezonu.
Scena przy Marszałkowskiej to trzecie w ciągu ostatnich dwóch lat miejsce, w którym Teatr Kwadrat gra swoje spektakle. Zespół, zmuszony w grudniu 2010 roku do opuszczenia  siedziby przy ul. Czackiego, znalazł tymczasowe schronienie w Klubie Dowództwa Garnizonu Warszawa. Teraz aktorów Kwadratu podziwiać będzie można na scenie dawnego Teatru Bajka.
Z Teatrem Kwadrat związane są wielkie gwiazdy znane ze wspaniałych ról filmowych i świetnych kreacji w uwielbianych przez widzów serialach. W przedstawieniach Kwadratu grają m.in. Ewa Kasprzyk, Ewa Ziętek, Marek Siudym, Paweł Małaszyński, Magdalena Stużyńska, Paweł Wawrzecki, Andrzej Grabarczyk, Renata Dancewicz, Ewa Wencel, Lucyna Malec, Marta Żmuda Trzebiatowska i wielu, wielu innych.
Jan Kobuszewski spektaklem "Dusza Kobusza" żegna się z widzami. Wspaniały aktor zdecydował się przejść na emeryturę. Moje serce jednak na zawsze pozostanie na scenie Kwadratu - zapewnia pan Jan.
Artykuł pochodzi z kategorii:
Gwiazdy
Agencja W. Impact
polski i
Tele Tydzień
Ogólnotematyczne
Filmowe
Serialowe
Dla dzieci
Sportowe
Muzyczne
Tematyczne
Dokumentalne
Informacyjne
Regionalne
DVB-T
HD
Ogólnotematyczne
Filmowe
Serialowe
Dla dzieci
Sportowe
Muzyczne
Tematyczne
Dokumentalne
Informacyjne
Regionalne
HD