Gwiazdy

»

Wzruszające wspomnienia o aktorach
Wzruszające wspomnienia o aktorach
Środa, 28 listopada 2012 (09:38)
Zmarła 8 lat temu Daria Trafankowska, czyli nieodżałowana siostra Danuta Dębska z "Na dobre i na złe", jest jedną z bohaterek książki Małgorzaty Puczyłowskiej "Być dzieckiem legendy", która właśnie trafia do księgarń.
Zdjęcie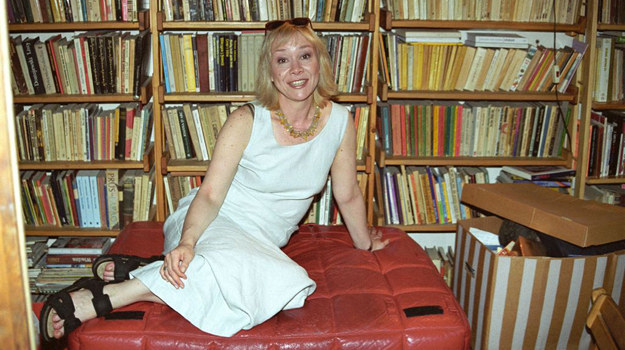 Daria Trafankowska
Osobiste wspomnienia autorki ze spotkań z nieżyjącymi już gwiazdami uzupełnione wspomnieniami ich dzieci, które żyły w cieniu sławnych rodziców, składają się na książkę, jakiej na polskim rynku dotąd nie było. "Być dzieckiem legendy" to zbiór wzruszających opowieści o trzynastu legendarnych gwiazdach kultowych seriali, sceny i estrady. Małgorzata Puczyłowska, której udało się dotrzeć nawet do mieszkających z dala od Polski dzieci wybitnych artystów, pisała swą debiutancką książkę przez kilka lat.
- Najtrudniejszym zadaniem było dla mnie pisanie o tych gwiazdach, które bardzo dobrze znałam, z którymi się przyjaźniłam - mówi nam autorka "Być dzieckiem legendy".
- Do dziś nie mogę się pogodzić ze śmiercią Darii Trafankowskiej, wciąż mam w swoim telefonie numer jej komórki... Dusia była niezwykłą osobą, ciepłą, serdeczną, gotową oddać ostatni grosz, by pomóc innym - opowiada o jednej z bohaterek swojej książki Małgorzata Puczyłowska.
Potwierdza to w rozmowie z autorką syn nieżyjącej od ośmiu lat Darii, Wit Dziki, dodając, że teraz najbardziej brakuje mu mamy, kiedy w jego życiu dzieje się coś fajnego, czym chciałby się z nią podzielić.
W książce "Być dzieckiem legendy", obok wzruszających wspomnień o Darii Trafankowskiej, znalazły się też opowieści m.in. Rafałała Wilhelmiego, syna Romana Wilhelmiego, Matyldy Kirstein, córki Ewy Sałackiej, Michała Bukowskiego, syna Janusza Bukowskiego, czyli Grzegorza Białka z pierwszej polskiej telenoweli "W labiryncie", Szczęsnego Górskiego, syna Aleksandry Śląskiej oraz Julii Urbańskiej i Igora Chmielnika, dzieci Jacka Chmielnika.
Książka Małgorzaty Puczyłowskiej "Być dzieckiem legendy", której patronami medialnymi są portal Interia.pl, RMF, "Tele Tydzień" i tygodnik "Rewia", trafia właśnie do księgarń w całej Polsce. Autorka zapowiada, że druga część opowieści o legendarnych gwiazdach ukaże się w pierwszej połowie przyszłego roku.


Artykuł pochodzi z kategorii:
Gwiazdy
Agencja W. Impact
polski i
Tele Tydzień
Ogólnotematyczne
Filmowe
Serialowe
Dla dzieci
Sportowe
Muzyczne
Tematyczne
Dokumentalne
Informacyjne
Regionalne
DVB-T
HD
Ogólnotematyczne
Filmowe
Serialowe
Dla dzieci
Sportowe
Muzyczne
Tematyczne
Dokumentalne
Informacyjne
Regionalne
HD