Kabaret dla każdego
Poniedziałek, 9 lipca 2012 (10:36)
Trzech gospodarzy. Trzy wizje kabaretu. Dobra zabawa dla wszystkich.
Zdjęcie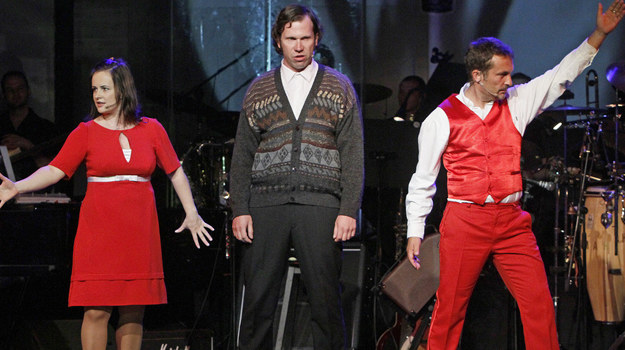 Jednym z gości specjalnych będzie kabaret Hrabi z rewelacyjną Joanną Kołaczkowską w roli głównej.
Nowiutki amfiteatr nad jeziorem Czos zasługuje na specjalny show. I taki z pewnością zapewni 14. Mazurska Noc Kabaretowa. 
Trzy po trzy
Składać się będzie z trzech części, a każdą z nich poprowadzi inny kabaret. Na pierwszy ogień pójdzie Limo. Pochodząca z Gdańska grupa zaprezentuje własną wizję dobrego kabaretu. A że się na tym znają, świadczą liczne nagrody i pozostające w pamięci widzów skecze o Świętej Inkwizycji, habity i czarne trampki. Jako drudzy swoją godzinę zagospodarują Raki.

Śląsk rządzi
Kto jak kto, ale panowie ze Śląska na rozśmieszaniu znają się doskonale - w końcu robią to od trzydziestu lat! Tercet z Rudy Śląskiej przedstawi swoje piosenki i całkiem nowe, przygotowane na tę okazję, skecze. Ale najtrudniejsze zadanie ma ostatni gospodarz - Kabaret Młodych Panów. Wystąpić po tak znamienitych kolegach, utrzymać zainteresowanie widzów i sprawić, by nadal dopisywały im humory, to poważna sprawa. Ale kto poradziłby sobie lepiej niż nazywający siebie "Bezczelnie młodymi" satyrycy z Rybnika?

Z pomocą przyjaciół
Każdy z gospodarzy nie tylko przedstawi swój program, ale zaprosi na scenę gości specjalnych, wśród których nie zabraknie m.in. Andrzeja Grabowskiego, Łowców.B, Tomasza Jachimka i Marcina Dańca.
"Mazurska Noc Kabaretowa" w sobotę, 14 lipca o godz. 20:05 na antenie TVP2.

Artykuł pochodzi z kategorii:
Rozrywka

polski i
Tele Tydzień
Ogólnotematyczne
Filmowe
Serialowe
Dla dzieci
Sportowe
Muzyczne
Tematyczne
Dokumentalne
Informacyjne
Regionalne
DVB-T
HD
polski i
Tele Tydzień
Ogólnotematyczne
Filmowe
Serialowe
Dla dzieci
Sportowe
Muzyczne
Tematyczne
Dokumentalne
Informacyjne
Regionalne
HD