"Rozmowy w toku" na Haiti
Czwartek, 10 maja 2012 (11:56)
Ewa Drzyzga wraz z ekipą "Rozmów w toku", przy wsparciu UNICEF, poleciała na Haiti. O Czym rozmawiała z mieszkańcami?
Zdjęcie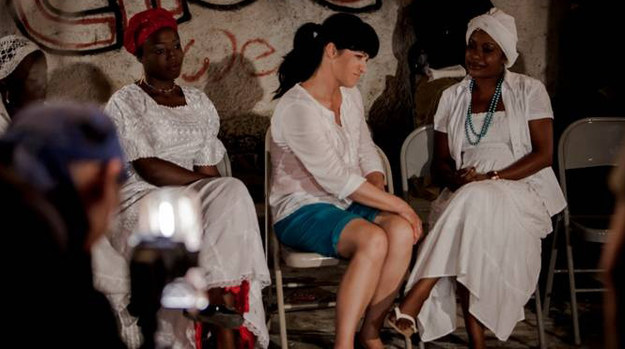 Dwa lata po trzęsieniu ziemi na tej karaibskiej wyspie, jej mieszkańcy nadal nie mają dachu nad głową, dostępu do pitnej wody i codziennie walczą o przeżycie. W najgorszej sytuacji są dzieci. I nie chodzi wyłącznie o milion haitańskich sierot. 
W kraju, gdzie nie ma prawa, które skutecznie chroni dzieci, każde z nich jest łakomym kąskiem dla tych, którzy zajmują się nielegalną adopcją czy handlem organami. Haiti to jeden z najbiedniejszych krajów świata. 
Wielodzietne rodziny niejednokrotnie same decydują się oddać swoje pociechy zupełnie obcym osobom, w nadziei na ich lepszy los. Takie dzieci nierzadko są przez nowych opiekunów wykorzystywane do ciężkich prac domowych,  głodzone, bite, poniżane, a nawet molestowane.

Ewa Drzyzga zastanawia się, co musi się stać, żeby to zmienić. Będąc na Haiti próbowała też zrozumieć fenomen tego katolickiego kraju, w którym Voodoo jest religią. To jedyny taki kraj na świecie. Kapłani i kapłanki Voodoo doradzają w problemach miłosnych, zawodowych, uzdrawiają. Ekipa "Rozmów w toku" obserwowała  ceremonie, w  których ofiarą dziękczynną były zwierzęta.

Specjalne odcinki programu wyemitowane zostaną 21 i 22 maja, o godz: 15:55 na antenie TVN.

Artykuł pochodzi z kategorii:
Rozrywka
materiały prasowe
polski i
Tele Tydzień
Ogólnotematyczne
Filmowe
Serialowe
Dla dzieci
Sportowe
Muzyczne
Tematyczne
Dokumentalne
Informacyjne
Regionalne
DVB-T
HD
Ogólnotematyczne
Filmowe
Serialowe
Dla dzieci
Sportowe
Muzyczne
Tematyczne
Dokumentalne
Informacyjne
Regionalne
HD