Zagrają siebie!
Środa, 12 grudnia 2012 (15:32)
W "Galerii" na otwarciu włoskiej restauracji pojawią się dwaj panowie – znany prezenter pogody, Jarosław Kret i rozśpiewany Kubańczyk - Jose Torres.
Zdjęcie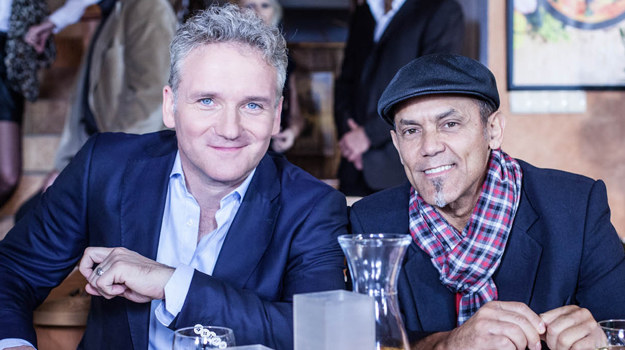 W nowo otwartej restauracji pojawią się wyjątkowi goście: Jarosław Kret i Jose Torres.
Wielka feta, dwie zazdrosne rywalki i do tego fantastyczni goście - Jose Torres i Jarosław Kret! Otwarcie nowej restauracji Michała (Rafał Cieszyński) na długi czas pozostanie w pamięci.

Zagrają siebie
- Był to debiut, w którym straciłem głos - śmieje się Jarosław Kret. - Mimo to uważam, że udany - dodaje. - Czułem się swobodnie, ponieważ grałem siebie - z kolei mówi Jose Torres. Obaj panowie wystąpili jako celebryci - przyjaciele Michała. Ich obecność na otwarciu restauracji wywoła spore poruszenie wśród pozostałych gości. 
Będą w doskonałych humorach, a ich radość życia będzie udzielać się innym. - Sporo żartowaliśmy z Jose - zdradził Jarosław Kret. - Myślę, że to dobrze, bo nie umiem uczyć się tekstu na pamięć. Wolę improwizować - przyznaje prezenter.

One się nienawidzą!
Na przyjęciumzjawi się też Karolina (Magdalena Turczeniewicz), ukochana Michała, dla której przyjechał do Polski. Mężczyzna będzie wniebowzięty! Jednak mina mu zrzednie, gdy w progu stanie Anita (Julia Pietrucha). Na widok przyrodniej siostry Karolina natychmiast opuści lokal. Tymczasem Anita nie zrezygnuje tak szybko. Przeciwnie. Przystąpi do ataku. Zacznie całować Michała! Którą z kobiet wybierze przystojny menadżer? Odpowiedź dopiero wiosną, w trzeciej serii "Galerii".
Marzena Juraczko

"Galeria" od poniedziałku do czwartku o godz. 18:20 na antenie TVP 1.

Artykuł pochodzi z kategorii:
Galeria

polski i
Tele Tydzień
Ogólnotematyczne
Filmowe
Serialowe
Dla dzieci
Sportowe
Muzyczne
Tematyczne
Dokumentalne
Informacyjne
Regionalne
DVB-T
HD
Ogólnotematyczne
Filmowe
Serialowe
Dla dzieci
Sportowe
Muzyczne
Tematyczne
Dokumentalne
Informacyjne
Regionalne
HD