Maciej Musiał zamieszka w "Hotelu 52"
Środa, 25 kwietnia 2012 (06:00)
Producenci serialu starali się jak najdłużej nie zdradzać, w którym odcinku wystąpi Maciej Musiał. Ale my już wiemy!
Zdjęcie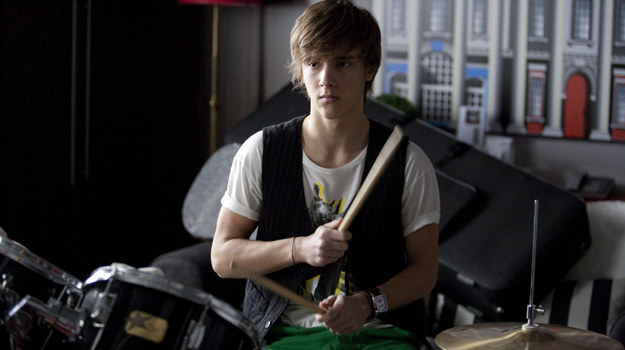 Maciej Musiał jako hałaśliwy gość Hotelu 52
Maciej Musiał, który gościł w naszej redakcji, sam uchylił rąbka tajemnicy: - Pojawiam się w dwóch ostatnich odcinkach 5. sezonu "Hotelu 52". 
Kogo tym razem zagra?
- Mój bohater, to taki Chuck Bass z "Plotkary" - wyjaśnia Maciek. - Jest synem bardzo bogatych rodziców, którzy mieszkają poza Warszawą, prowadzą swój biznes i żyją w odrealnionym świecie. Nie opiekują się swoim dzieckiem. Wysyłają go do bardzo dobrego liceum w stolicy i wynajmują mu pokój w hotelu.

Trzeba przyznać, że niewielu nastolatków może sobie pozwolić na taki luksus. Wierni widzowie serialu zapewne pamiętają, że pojawienie się nastolatków w hotelu nie wróży niczego dobrego. Jak będzie w przypadku postaci granej przez Maćka?
- Urządza imprezy, ma swoje zachcianki, jest głośny. Gra na gitarze, ale to nie jest jego pasją. To takie dziecko zamożnych rodziców, które jednego dnia chce być piłkarzem, a następnego kupuje sobie gitarę - wyjaśnia. Ale jak zapowiada Maciej, nieletni rezydent Hotelu 52 ma również zaskakiwać swoimi przemianami.
Wątek z Maciejem Musiałem pojawi się w 64. odcinku, który Polsat wyemituje 17 maja (historia zakończy się w 65. odcinku).


Zanim zobaczymy na ekranie idola nastolatek, spójrzmy co przyniesie 61. odcinek "Hotelu 52" (emisja w czwartek 26 kwietnia o godz. 21:00 w Polsacie)
"Hotel 52" - zwiastun odc. 61. /materiały prasowe
Artykuł pochodzi z kategorii:
Hotel 52
polski i
Tele Tydzień
Ogólnotematyczne
Filmowe
Serialowe
Dla dzieci
Sportowe
Muzyczne
Tematyczne
Dokumentalne
Informacyjne
Regionalne
DVB-T
HD
Ogólnotematyczne
Filmowe
Serialowe
Dla dzieci
Sportowe
Muzyczne
Tematyczne
Dokumentalne
Informacyjne
Regionalne
HD