Seriale

»

Kto posprząta Polakom w lodówce?
Kto posprząta Polakom w lodówce?
Środa, 21 grudnia 2011 (10:31)
Dorocie Kośmickiej-Gacke udało się skompletować fantastyczną obsadę nowego serialu TVP 2 pt. "Ja to mam szczęście!". Obok Kingi Preis i Jacka Braciaka wystąpią w nim Anna Seniuk i Zdzisław Wardejn. Sprawdź, w jakich rolach!
Zdjęcie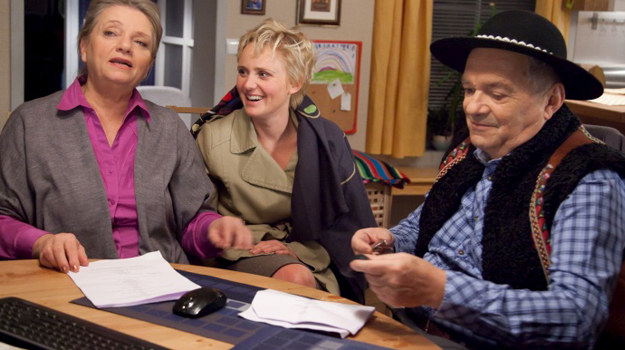 - Annę Seniuk zobaczymy w roli Adeli, mamy serialowej Joanny Polak, w którą wciela się Kinga Preis - zdradza nam Dorota Kośmicka-Gacke, producentka "Ja to mam szczęście!". - Natomiast Zdzisław Wardejn zagra Bolesława, męża pani Adeli a zarazem ojca naszej głównej bohaterki. To bardzo żywotni małżonkowie. Niemal nieustannie podróżują. Na szczęście uda im się znaleźć czas na wizytę u Polaków.
Jak łatwo się domyślić, wizyta Adeli i Bolesława u Joanny i Jerzego (Jacek Braciak) będzie wyjątkowo nietypowa i zaskakująca. Rodzice gospodyni już od wejścia rzucą się bowiem do zrobienia gruntownych porządków w... lodówce. Jak zareagują na to Polakowie? Cóż, będą wyraźnie poirytowani niecodziennym zachowaniem gości. Tym bardziej że Adela i Bolesław zaczną im jeszcze udzielać wielu życiowych porad. Bolesław na przykład opowie Jerzemu o świetnym działaniu nabiału. To przykład tylko jednej z wielu lekcji życia. Jedno jest pewne: będzie ciekawie i bardzo zabawnie. Serial "Ja to mam szczęście!" startuje 7 marca 2012 r. w TVP 2.
.
Artykuł pochodzi z kategorii:
Ja to mam szczęście
Agencja W. Impact
polski i
Tele Tydzień
Ogólnotematyczne
Filmowe
Serialowe
Dla dzieci
Sportowe
Muzyczne
Tematyczne
Dokumentalne
Informacyjne
Regionalne
DVB-T
HD
Ogólnotematyczne
Filmowe
Serialowe
Dla dzieci
Sportowe
Muzyczne
Tematyczne
Dokumentalne
Informacyjne
Regionalne
HD