Zyta zakłada Akademię Niemowlaka!
Wtorek, 4 września 2012 (09:43)
Po przyjściu na świat Stefanka (Janusz Jakubczak) Zyta (Magda Stam) wcale nie planuje ograniczać się wyłącznie do opieki nad synkiem. Razem z koleżankami z porodówki postanowi zająć się... biznesem. Poznaj szczegóły!
Zdjęcie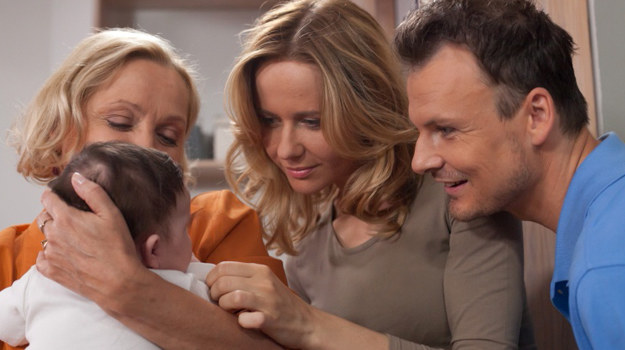 Zdradzamy, że gdy w 2313. odcinku "Klanu" (emisja we wtorek 4 września) głodny Michał (Daniel Zawadzki) wróci po pracy do domu, w mieszkaniu zastanie tylko teściów zajmujących się Stefankiem. Zyty nie będzie, bo umówiła się z koleżankami ze szpitala położniczego, Romą (Katarzyna Pierścionek) i Izą (Iwona Karlicka), w kawiarni. Okaże się, że to nie tylko spotkanie towarzyskie, ale również biznesowe.
Zyta będzie oczarowana kawiarnią.
- Wszystko tam było przystosowane dla potrzeb matki z małymi dziećmi! - opowie potem zachwycona swojej mamie (Teresa Stępień-Nowicka). -  Nic więc dziwnego, że w tych wspaniałych warunkach od razu do głowy przyszedł nam pomysł na biznes. Zakładamy firmę! To będzie szkoła migania niemowlaków! Bo zanim dziecko zacznie mówić, można z nim rozmawiać za pomocą języka migowego! Każdy rodzic powinien się więc go nauczyć! Miganie z dzieckiem ma same zalety: motywuje maluchy do mówienia, wzbudza zainteresowanie książkami, stymuluje rozwój mózgu, a co się z tym wiąże - rozwój intelektualny. Prawda, że miganie ma kolosalną przyszłość?
Dodajmy, że Zyta i jej koleżanki nie poprzestaną na mówieniu o biznesie, lecz faktycznie zarejestrują "Akademię Niemowlaka". W nowo powstałej firmie młoda Chojnicka ma odpowiadać za finanse. Od tej pory będzie rzadkim gościem w swoim domu. Ciekawe, co na to jej mąż Michał?
Artykuł pochodzi z kategorii:
Klan
Agencja W. Impact
polski i
Tele Tydzień
Ogólnotematyczne
Filmowe
Serialowe
Dla dzieci
Sportowe
Muzyczne
Tematyczne
Dokumentalne
Informacyjne
Regionalne
DVB-T
HD
Ogólnotematyczne
Filmowe
Serialowe
Dla dzieci
Sportowe
Muzyczne
Tematyczne
Dokumentalne
Informacyjne
Regionalne
HD