Dramatyczna diagnoza
Poniedziałek, 10 września 2012 (13:46)
Nieprzespane noce, strach o życie dziecka i decyzja, która może oznaczać życie lub śmierć. Martę (Dominika Ostałowska) i Andrzeja (Krystian Wieczorek) znów czekają trudne chwile… Mała Ania (Julia Paćko) okaże się ciężko chora! Zobaczcie zapowiedź 927. odcinka "M jak miłość".
Zdjęcie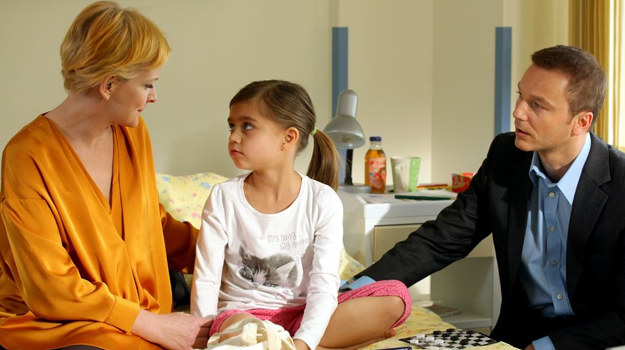 Czy mała Ania wyzdrowieje?
Za radą Wiktora (Piotr Grabowski), Marta zapisze córkę na wizytę do światowej sławy neurologa - profesora Kazana (w tej roli: Olgierd Łukaszewicz). A lekarz nie będzie miał dobrych wieści...
- W rezonansie znaleźliśmy... guza przysadki mózgowej. Bardzo mi przykro. Kazan na chwilę zamilknie - i zajrzy do karty z wynikami badań.
-  To bardzo rzadkie u dzieci w tym wieku... Guz jest dość duży, ma trudną lokalizację, uciska nerwy wzrokowe... Stąd te zaburzenia widzenia. Ale kwalifikuje się do operacji i moim zdaniem trzeba operować. I to jak najszybciej. Ale oczywiście decyzja należy do państwa...

Marta będzie zdruzgotana. I przerażona na myśl o możliwych powikłaniach - włącznie z uszkodzeniem mózgu i śmiercią. Jednak Andrzej nie pozwoli ukochanej się załamać... Gdy wrócą razem do domu, od razu żonę przytuli: - Nie bój się, wszystko będzie dobrze... Czytałaś w Internecie? Kazan to świetny specjalista! Szkolił się w Stanach, ma ogromne doświadczenie, robi operacje przysadki mózgowej najlepiej w Europie... Ania w jego rękach jest bezpieczna.

A po chwili doda, pełen determinacji: - Nie zostawię cię z tym samej... I obiecuję, że zrobię wszystko, co jest w ludzkiej mocy... Żeby Ani pomóc. Razem będziemy walczyć o nasze dziecko...

Czy Ania odzyska zdrowie? A Marta na nowo zbliży się do męża i wybaczy w końcu Andrzejowi zdradę? Odpowiedź już wkrótce...

927. odcinek "M jak miłość" we wtorek, 11 września o godz. 20:40 na antenie TVP2.

Artykuł pochodzi z kategorii:
M jak miłość
polski i
Tele Tydzień
Ogólnotematyczne
Filmowe
Serialowe
Dla dzieci
Sportowe
Muzyczne
Tematyczne
Dokumentalne
Informacyjne
Regionalne
DVB-T
HD
Ogólnotematyczne
Filmowe
Serialowe
Dla dzieci
Sportowe
Muzyczne
Tematyczne
Dokumentalne
Informacyjne
Regionalne
HD