Seriale

»

Igor wda się w romans z dawną ukochaną?
Igor wda się w romans z dawną ukochaną?
Poniedziałek, 19 listopada 2012 (12:09)
Przypadkowe spotkanie Igora (Kuba Wesołowski) z Mają Kochanowską (Agnieszka Żulewska) sprawi, że Nowak nie przestanie myśleć o ukochanej sprzed lat. Czy dla niej zostawi Magdę Żebrowską (Karolina Nolbrzak)?
Zdjęcie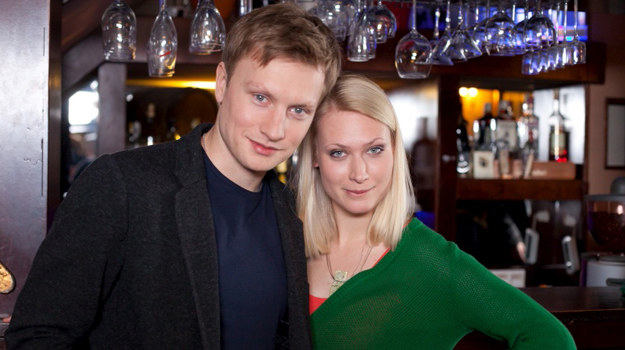 Spotkanie Mai i Igora po latach
Ujawniamy, że Igor i Maja spotkają się przypadkiem na ulicy w 1671. odcinku "Na Wspólnej" (emisja w poniedziałek 26 listopada). Przypomnijmy, że Kochanowska to chyba największa miłość w dotychczasowym życiu Nowaka. Ona dla niego uciekła sprzed ołtarza Tadeuszowi (Jacek Poniedziałek). Lecz gdy okazało się, że spodziewa się dziecka, wróciła do byłego kochanka i razem z nim wyjechała z Polski. Igor został na lodzie i długo nie mógł się po tym otrząsnąć. Gdy po latach zobaczy ją po raz pierwszy, będzie bardzo zmieszany i niezbyt skory do rozmowy. Maja, widząc że to nieodpowiednia pora na dialog, szybko pożegna się i odejdzie. Igor nie będzie mógł oderwać oczu od oddalającej się Kochanowskiej...
Następnego dnia Maja zadzwoni do Nowaka i zaproponuje mu spotkanie. Wyjaśni, że wczoraj nie mieli czasu porozmawiać, a ona jest ciekawa, co u niego. Umówią się w kawiarni.
- Niedawno wróciłam ze Sztokholmu - wyzna Maja. - Rozwiodłam się z Tadeuszem. Właściwie nigdy go nie kochałam. Myliłam się, myśląc, że przyjaźń i dziecko zastąpią uczucie. Do Polski przyjechałam ze swoją córeczką Julią.

Oszołomiony Igor wyzna, że i on ma córeczkę o tym imieniu. Zaskoczona Maja zapyta Nowaka, czy ożenił się.
- Dopiero zamierzam to zrobić - stwierdzi Nowak.
Podczas rozmowy w kawiarni Kochanowska wyraźnie da Igorowi do zrozumienia, że jest wolna i chętna...
Jeszcze tego samego dnia Magda Żebrowska odkryje w telefonie Nowaka połączenia z Mają. Postawiony pod ścianą Igor przyzna, że widział się z Kochanowską. To wyznanie doprowadzi Magdę do szału. Uzna, że skoro Nowak przemilczał fakt spotkania z kobietą, którą kiedyś kochał, musi mieć coś na sumieniu. W końcu uda mu się zapewnić Magdę, że to było pierwsze i ostatnie spotkanie z Mają.
Od tej pory jednak Żebrowska nie będzie potrafiła powstrzymać się od dyskretnego sprawdzania Igora. Czy Nowak da jej powody do zazdrości?


Artykuł pochodzi z kategorii:
Na Wspólnej
Agencja W. Impact
polski i
Tele Tydzień
Ogólnotematyczne
Filmowe
Serialowe
Dla dzieci
Sportowe
Muzyczne
Tematyczne
Dokumentalne
Informacyjne
Regionalne
DVB-T
HD
Ogólnotematyczne
Filmowe
Serialowe
Dla dzieci
Sportowe
Muzyczne
Tematyczne
Dokumentalne
Informacyjne
Regionalne
HD