Seriale

»

Córka Anki bierze przykład z matki
Córka Anki bierze przykład z matki
Czwartek, 11 października 2012 (06:00)
Anka (Magdalena Stużyńska) coraz gorzej radzi sobie w relacjach z nastoletnią córką. Julka (Pola Figurska) nie dość, że do wszystkiego co mówi matka, podchodzi lekceważąco, to jeszcze ma coraz więcej tajemnic przed rodzicami. Anka nie podejrzewa jednak, że sprawy zaszły tak daleko.
Zdjęcie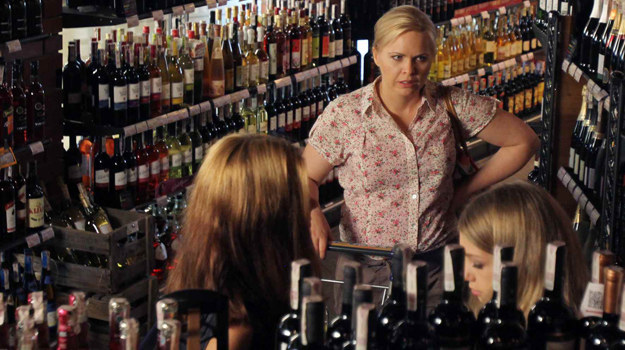 Anka przyłapię córkę na kupnie alkoholu
Podczas zakupów w supermarkecie Anka przyłapie córkę i jej koleżankę Darię na kupowaniu alkoholu. Dojdzie do ostrej wymiany zdań i przy tej okazji Anka dowie się, że 15-letnia Julka picie alkoholu uważa za coś zupełnie normalnego, a przykład daje jej matka ukradkiem popijająca drinki. Wyda się także, że Julka okłamuje rodziców od dłuższego czasu i opuszcza lekcje w szkole.
Anka będzie zdruzgotana. Była przekonana, że nikt nie widzi, gdy cichaczem sięga po alkohol. Co więcej, nie przypuszczała, że jej słabości mogą stać się przyzwoleniem do picia alkoholu przez jej dziecko. No i jeszcze te wagary...
Czy Anka znajdzie wreszcie sposób, jak poradzić sobie ze zbuntowaną nastolatką? Czy odzyska autorytet w oczach córki? Niestety to nie będzie takie proste.

6. odcinek "Przyjaciółek" już 11 października o godz. 22:00 w Polsacie.


Artykuł pochodzi z kategorii:
Przyjaciółki
polski i
Tele Tydzień
Ogólnotematyczne
Filmowe
Serialowe
Dla dzieci
Sportowe
Muzyczne
Tematyczne
Dokumentalne
Informacyjne
Regionalne
DVB-T
HD
Ogólnotematyczne
Filmowe
Serialowe
Dla dzieci
Sportowe
Muzyczne
Tematyczne
Dokumentalne
Informacyjne
Regionalne
HD