"Ranczo" bezkonkurencyjne
Środa, 28 marca 2012 (10:22)
Ulubiony serial komediowy Polaków ponownie rządzi w niedzielne wieczory. Szósta seria "Rancza" przyciąga przed telewizory największą widownię i nie daje szans konkurencji.
Zdjęcie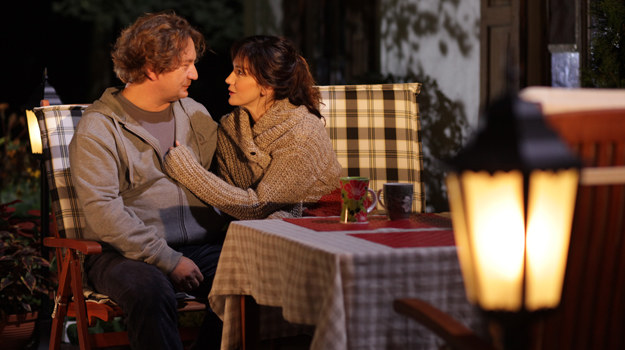 Lucy (Ilona Ostrowska) i Kusy (Paweł Królikowski)
Cztery pierwsze odcinki nowego sezonu "Rancza" oglądało średnio 6,81 mln widzów, co dało Jedynce 38,01 proc. udziału w grupie 4+ oraz 28,69 proc. wśród widzów między 16 a 49 rokiem życia. Oznacza to, że TVP 1 jest zdecydowanym liderem w trakcie nadawania serialu. Za stacją znajduje się Polsat z programem muzycznym "Must Be The Music", na trzeciej pozycji znajduje się stacja TVN z "Surowymi rodzicami" i "Prawem Agaty", a stawkę zamyka TVP 2.
W nowym sezonie "Rancza" śledzimy perypetie Lucy (Ilona Ostrowska), która postanowiła zaktywizować żeńską część Wilkowyj, do pracy - co spotka się z dużym niezadowoleniem zwłaszcza panów i protestami pod Urzędem Gminy. Nie brakuje także Pawła Kozioła (Cezary Żak), który w najnowszych odcinkach został senatorem oraz całkowicie nieoczekiwanie... gwiazdą Internetu.

Serial "Ranczo" emitowany jest w każdą niedzielę o 20:20 w TVP 1
mj


Artykuł pochodzi z kategorii:
Ranczo
polski i
Tele Tydzień
Ogólnotematyczne
Filmowe
Serialowe
Dla dzieci
Sportowe
Muzyczne
Tematyczne
Dokumentalne
Informacyjne
Regionalne
DVB-T
HD
polski i
Tele Tydzień
Ogólnotematyczne
Filmowe
Serialowe
Dla dzieci
Sportowe
Muzyczne
Tematyczne
Dokumentalne
Informacyjne
Regionalne
HD