Sport

»

Euro 2012 już bez Polaków
Euro 2012 już bez Polaków
Niedziela, 17 czerwca 2012 (15:49)
Sytuacja w Grupie A jest już jasna - ostatnia kolejka fazy grupowej rozstrzygnęła, kto przeszedł do dalszych rozgrywek. I, niestety, nie jest to reprezentacja Polski.
Zdjęcie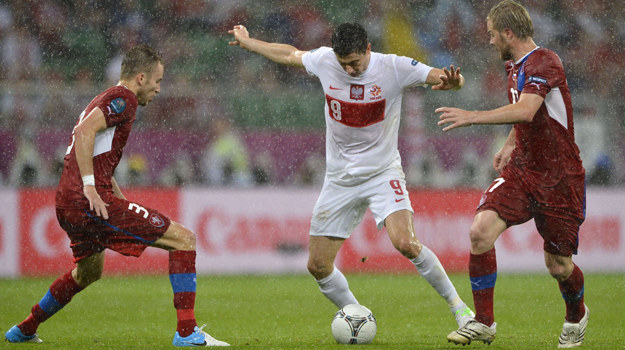 Robertowi Lewandowskiemu nie udało się pokonać czeskiej obrony
W sobotnim spotkaniu, zwanym "meczem o wszystko", w którym Polska stanęła do boju z Czechami, oczekiwania kibiców naszej drużyny narodowej nie współgrały z wyczynami piłkarzy na boisku, ani z myślą szkoleniową trenera. Fani piłki nożnej do samego końca łudzili się, że polska reprezentacja wyjdzie z grupy i jeszcze będzie można trzymać za nią kciuki podczas Euro 2012. Stało się jednak inaczej. Czesi pokonali nas 1:0 (tę jakże ważną bramkę zdobył Petr Jiracek). Jak to zazwyczaj bywa, zemściły się niewykorzystane okazje. Oczywiście chciałoby się kogoś obarczyć winą za tę porażkę, ale pora już otrzeć łzy i cieszyć się, że fiesta na ulicach miast-gospodarzy wciąż trwa. W końcu to niezwykły widok, jak Gdańsk, Poznań, Wrocław i Warszawa ożywają na czas mistrzostw.

W Grupie A po golu Karagounisa Grecja wygrała z Rosją 1:0, a tym samym wywalczyła sobie, obok Czech, awans do kolejnej fazy Euro 2012.
W niedzielę starcie Portugalii z Holandią i Danii z Niemcami (rozstrzygną się losy Grupy B). Oba mecze zaczynają się o 20:45 (pierwszy z nich transmituje TVP 1, TVP Sport i TVP HD, a drugi - TVP 2 i TVP Sport).
W poniedziałek 18 czerwca kolej na Grupę C. Chorwacja zmierzy się z Hiszpanią (TVP 1, TVP Sport i TVP HD, początek meczu o 20:45), a Włochy z Irlandią (TVP 2 i TVP Sport).

Artykuł pochodzi z kategorii:
Sport
polski i
Tele Tydzień
Ogólnotematyczne
Filmowe
Serialowe
Dla dzieci
Sportowe
Muzyczne
Tematyczne
Dokumentalne
Informacyjne
Regionalne
DVB-T
HD
Ogólnotematyczne
Filmowe
Serialowe
Dla dzieci
Sportowe
Muzyczne
Tematyczne
Dokumentalne
Informacyjne
Regionalne
HD
Kierowcy

| | |
| --- | --- |
| Lewis Hamilton | (W.Brytania/McLaren Mercedes) |
| Jenson Button | (W.Brytania/McLaren Mercedes) |
| Fernando Alonso | (Hiszpania/Ferrari) |
| Mark Webber | (Australia/Red Bull-Renault) |
| Sebastian Vettel | (Niemcy/Red Bull-Renault) |