Gwiazdy

»

Fijał zaliczyła dwie imprezy w jeden wieczór!
Fijał zaliczyła dwie imprezy w jeden wieczór!
Czwartek, 4 października 2012 (12:31)
Ada Fijał to prawdziwa salonowa lwica. Ostatnio żadna związana z modą impreza nie może się obejść bez jej udziału. Zdarza się – tak jak w środę wieczorem – że aktorka bryluje na kilku stołecznych salonach!
Zdjęcie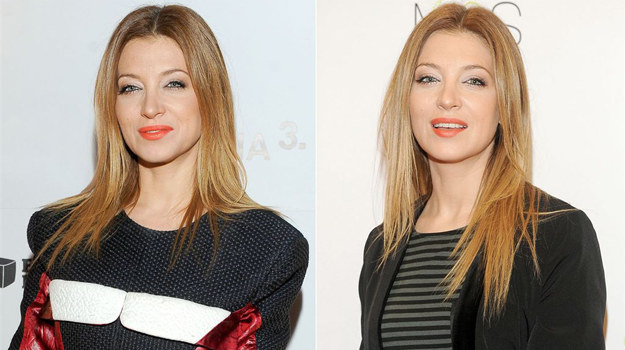 Bywam, więc jestem
Odkąd Ada Fijał prowadzi w stacji Polsat Cafe program "Gwiazdy na dywaniku", w którym razem z Joanną Horodyńską ocenia stylizacje, w jakich celebrytki pojawiają się na czerwonych dywanach, nie ma chwili wytchnienia. Aktorka po prostu musi... bywać!
W środę wieczorem Ada Fijał brylowała aż na dwóch imprezach modowych w stolicy. Dokonała przy tym rzeczy wydawałoby się niemożliwej - zaledwie kwadrans zajęło jej dotarcie z jednej imprezy na drugą. W dodatku aktorka zdążyła się przebrać!
Punktualnie o godzinie 18 Ada obejrzała w jednej z galerii handlowych pokaz jesienno-zimowej kolekcji marki Marks & Spencer, szybciutko przebiegła po nowo otwartym salonie, chwilę pogawędziła z Joanną Horodyńską, pozowała do zdjęć i w mgnieniu oka znikła, by kwadrans później pojawić się na uroczystej inauguracji działalności nowego butiku Mysia 3. Kiedy zdążyła się przebrać, pozostanie jej tajemnicą!
Nową kolekcję Marks & Spencer Ada podziwiała w towarzystwie m.in. Małgorzaty Sochy i Anny Wendzikowskiej. W butiku Mysia 3 spotkała się z kolei z Andżeliką Piechowiak, Magdą Modrą, Marysią Góralczyk oraz powracającą po długiej przerwie na warszawskie salony Agnieszką Perepeczko, czyli niezapomnianą Simoną z "M jak miłość".
Dwie związane z modą imprezy w jeden wieczór to dla Ady Fijał nic nadzwyczajnego. Na tym przecież, aby bywać, polega między innymi jej praca w Polsat Cafe. Najprawdopodobniej już w jednym z najbliższych odcinków "Gwiazd na dywaniku" aktorka oceni kreacje swoich koleżanek, które spotkała w środowy wieczór na pokazie Marks & Spencer oraz na otwarciu butiku Mysia 3.
Wy możecie to zrobić już teraz - w naszej galerii znajdziecie zdjęcia gwiazd i gwiazdek, jakie pojawiły się na obu imprezach.


Artykuł pochodzi z kategorii:
Gwiazdy
Agencja W. Impact
polski i
Tele Tydzień
Ogólnotematyczne
Filmowe
Serialowe
Dla dzieci
Sportowe
Muzyczne
Tematyczne
Dokumentalne
Informacyjne
Regionalne
DVB-T
HD
polski i
Tele Tydzień
Ogólnotematyczne
Filmowe
Serialowe
Dla dzieci
Sportowe
Muzyczne
Tematyczne
Dokumentalne
Informacyjne
Regionalne
HD