Gwiazdy

»

Jabłczyńska: Czas na nowe wyzwanie
Jabłczyńska: Czas na nowe wyzwanie
Czwartek, 12 lipca 2012 (13:38)
Wkrótce poznamy dalsze losy Marty, bohaterki "Na Wspólnej", którą gra Joanna Jabłczyńska. Aktorka przyjęła także nową rolę!
Zdjęcie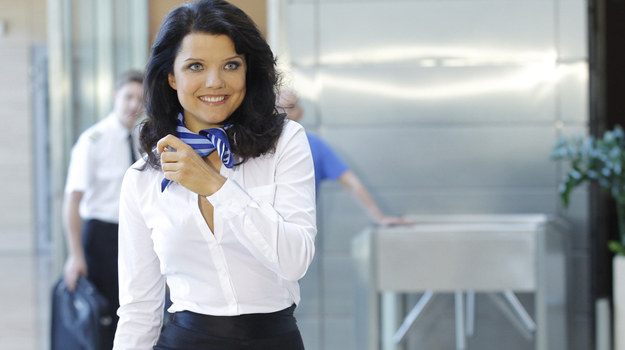 Joanna Jabłczyńska na planie serialu "Kumple"
Przed Joanną Jabłczyńską stoi kolejne wyzwanie aktorskie. Już pracuje nad nowym serialem komediowym "Kumple", w którym zagra jedną z głównych ról.
Droga do kariery
Aktorka, wokalistka, prawniczka - to zawody, które obecnie wykonuje 27-letnia Joanna Jabłczyńska. Zaczynała od występów w dziecięcym zespole Fasolki, następnie prowadziła "Teleranek". Później zajęła się dubbingowaniem, aż trafiła na plan serialu. Zadebiutowała niewielką rolą w "Klanie". W "Na Wspólnej" występuje już od dziewięciu lat. Na co dzień pracuje w kancelarii adwokackiej. 
Nowe życie Marty Hopfer
W ostatnich odcinkach serialu "Na Wspólnej" byliśmy świadkami tragedii , jaka  wydarzyła się w życiu bohaterki, w którą wciela się Jabłczyńska. Marta Hopfer i jej narzeczony Janusz mieli wypadek samochodowy. Ona przeżyła, on - wskutek odniesionych ran - zmarł. Tymczasem jesienią, w premierowych odcinkach serialu czeka na Martę kolejna wielka miłość! Jej wybrankiem będzie Paweł, który dostał serce Janusza. Na razie jednak oboje nie wiedzą, kto był dawcą.

Czas na komedię
"Kumple" to opowieść o paczce znajomych, wzorowana na amerykańskim serialu "Przyjaciele" Obok Joanny grają tam m.in. Ola Kisio i Przemek Cypryański. Projekt jest pomysłem reżysera Adama Molaka i jego znajomych aktorów. Ale czy któraś stacja kupi serial?
Artykuł pochodzi z kategorii:
Gwiazdy

polski i
Tele Tydzień
Ogólnotematyczne
Filmowe
Serialowe
Dla dzieci
Sportowe
Muzyczne
Tematyczne
Dokumentalne
Informacyjne
Regionalne
DVB-T
HD
polski i
Tele Tydzień
Ogólnotematyczne
Filmowe
Serialowe
Dla dzieci
Sportowe
Muzyczne
Tematyczne
Dokumentalne
Informacyjne
Regionalne
HD