Gwiazdy

»

Joanna Kołaczkowska wgryza się w lektury
Joanna Kołaczkowska wgryza się w lektury
Poniedziałek, 20 lutego 2012 (16:03)
Zabawna i... potrafi improwizować. To najważniejsze cechy w zawodzie satyryka. Teraz z uśmiechem przekonuje nas, że warto sięgać po... lektury. – Kochani, czytajcie! – mówi.
Zdjęcie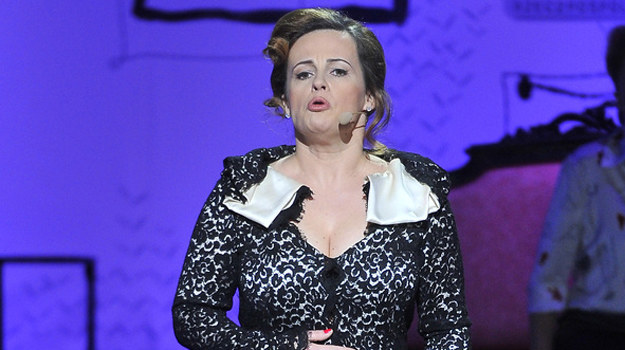 Joanna Kołaczkowska

Łatwo dała się Pani namówić do występu w "Historii literatury według Kabaretu Moralnego Niepokoju?"
- Z gospodarzami programu znamy się i przyjaźnimy od wielu lat, dlatego nie musieli mnie zbyt długo namawiać. Dla mnie zagrać z nimi to wielka przyjemność, a także stuprocentowa pewność, że skecze są na wysokim poziomie.

W trakcie nagrań zdarzyło się coś zabawnego?

- Oczywiście! W czasie występu w warszawskiej "Piwnicy Pod Harendą" przyprawiłam chłopaków z Kabaretu Moralnego Niepokoju o palpitacje serca, bo nie pojawiłam się na scenie na czas. To był skecz "Chłopi". Mikołaj Cieślak nachrząkał się, napocił, a ja... niczego nieświadoma siedziałam w garderobie.

Show składa się ze skeczów i scenek będących parodiami dzieł polskiej literatury. W liceum czytała Pani lektury szkolne?

- Nie było wyjścia! Najbardziej podobało mi się "Przedwiośnie", pochłonięte przeze mnie z wielkimi emocjami. Nie przebrnęłam natomiast przez "Pana Tadeusza".

Czyli lubiła Pani język polski?

- To przedmiot, na którym nie musiałam udawać, że nie żyję. Matematyka, fizyka, historia to były lekcje, na których wstrzymywałam oddech i miałam nadzieję, że nikt się nie zorientuje, że jestem. Pisałam z pasją wypracowania. Niedawno odnalazłam swój stary zeszyt. Teraz, po wielu latach, bardzo ciekawie się to czyta. To naprawdę niezły ubaw!

Jakąś szczególną lekturę poleciłaby Pani młodym ludziom?

- Niedługo nadejdzie taki czas, w którym wgryzę się w lektury. Ba! Wbiję się w nie ostro pazurami i nie puszczę. Moja córka wchodzi bowiem w wiek "lekturożerczy". Chcąc nie chcąc, zamierzam jej w tym towarzyszyć i wtedy polecę coś konkretnego.

Rozmawiał Artur Krasicki
"Historia literatury według Kabaretu Moralnego Niepokoju", sobota 25 lutego, TVP 2 godz. 20:05

Artykuł pochodzi z kategorii:
Gwiazdy

polski i
Tele Tydzień
Ogólnotematyczne
Filmowe
Serialowe
Dla dzieci
Sportowe
Muzyczne
Tematyczne
Dokumentalne
Informacyjne
Regionalne
DVB-T
HD
polski i
Tele Tydzień
Ogólnotematyczne
Filmowe
Serialowe
Dla dzieci
Sportowe
Muzyczne
Tematyczne
Dokumentalne
Informacyjne
Regionalne
HD