Gwiazdy

»

Kaja wybaczyła Borysowi po raz ostatni...
Kaja wybaczyła Borysowi po raz ostatni...
Środa, 26 października 2011 (11:58)
Czy można mieć zaufanie do mężczyzny, który mówi, że idzie po papierosy, a wraca po trzech dniach?
Zdjęcie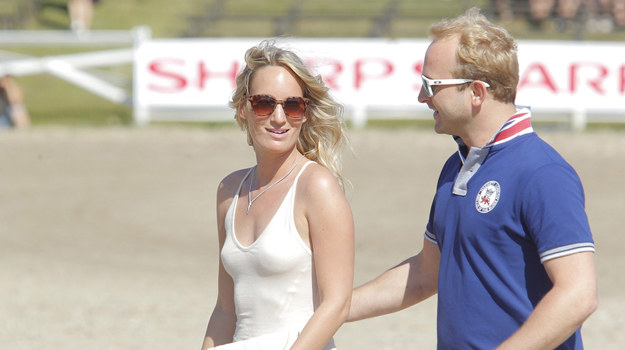 Choć na premierze filmu 1920. Bitwa Warszawska, w którym Borys Szyc (33) zagrał główną rolę, pokazał się z narzeczoną, jego znajomi twierdzą, że długo musiał używać swojego osobistego uroku, by ją do tego przekonać. Kaja Śródka (27) ma najwyraźniej dość życia u boku chłopca, który nie chce dorosnąć.
Od początku wiedziała, że on nie jest aniołkiem, ale teraz miarka się chyba przebrała. Co takiego się stało?
Jak zwykle – to samo. Borys Szyc ostro przeholował. Jego życie stało się jedną wielką się imprezą. W lipcu, kiedy otrzymał Diamentowego Klapsa jako osobowość filmowa, podczas bankietu zapomniał się do tego stopnia, że przez pół nocy okazywał zainteresowanie innej dziewczynie. Wtedy Kaja straciła cierpliwość i powiedziała: Dosyć! Był załamany. Dzwonił, przepraszał, błagał o spotkanie. W końcu uzyskał przebaczenie. Warunkowo! Niedawno, wykorzystując piękną jesienną pogodę, wziął ukochaną na Mazury. Chciał jej udowodnić, jak bardzo mu na niej zależy. Obiecywał poprawę. Elegancki hotel, długie spacery wokół jeziora, kolacja przy świecach – Kaja w jego towarzystwie znów poczuła się jak księżniczka. Roztoczył przed nią kuszącą perspektywę wspólnej cudownej przyszłości… Aż nastąpiła katastrofa! Intymne chwile przerwał telefon. To dzwonili stęsknieni koledzy Borysa. Aktor powiedział ukochanej, że schodzi tylko do recepcji po papierosy i… wrócił po trzech dniach.
Kiedy pojawił się, jak gdyby nigdy nic, Kaja zrobiła mu awanturę.
Życie u boku artysty przerosło jej siły. Postanowiła pożegnać się z aktorem raz na zawsze! Kochająca kobieta potrafi jednak wybaczyć mężczyźnie prawie wszystko. Znowu więc były łzy, bukiet kwiatów i… kolejna szansa. Tym razem chyba jednak ostatnia!
MP
Artykuł pochodzi z kategorii:
Gwiazdy

polski i
Tele Tydzień
Ogólnotematyczne
Filmowe
Serialowe
Dla dzieci
Sportowe
Muzyczne
Tematyczne
Dokumentalne
Informacyjne
Regionalne
DVB-T
HD
polski i
Tele Tydzień
Ogólnotematyczne
Filmowe
Serialowe
Dla dzieci
Sportowe
Muzyczne
Tematyczne
Dokumentalne
Informacyjne
Regionalne
HD