Gwiazdy

»

Kasprzyk: Miłość jest pełna, kiedy... rani!
Kasprzyk: Miłość jest pełna, kiedy... rani!
Wtorek, 17 lipca 2012 (10:34)
Ewa Kasprzyk, czyli Katarzyna z "Ja to mam szczęście!", uważa, że siłą napędową każdego człowieka jest miłość. Twierdzi, że miłość dodaje życiu smaku, koloru i sensu. Ostatnio aktorka widywana jest w towarzystwie sporo od niej młodszego mężczyzny...
Zdjęcie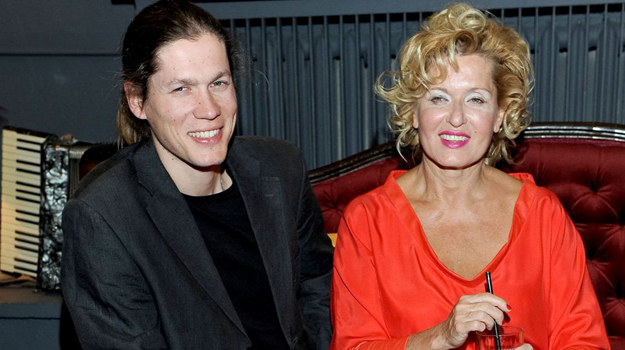 Ewa Kasprzyk z przyjacielem Jakubem Michalskim
- To mój przyjaciel - mówi Ewa Kasprzyk, pytana o towarzyszącego jej niemal wszędzie i wpatrzonego w nią jak w obrazek Jakuba Michalskiego. Poznali się trzy lata temu na planie filmu "Królowa Śniegu", którego producentem był Jakub i w którym Ewa stworzyła wspaniałą kreację. Długie rozmowy, wspólnie spędzony podczas realizacji filmu czas i wyjazdy z "Królową śniegu" na festiwale filmowe bardzo ich do siebie zbliżyły. Aktorka zaimponowała młodemu producentowi dojrzałością i mądrością, jej spodobała się jego energia i optymizm.
Ewa Kasprzyk nie boi się mówić wprost tego, co myśli. - Przyjaźń między kobietą i mężczyzną jest możliwa, choć bardzo trudna. A miłość? Cóż, miłość jest zaborcza i pragnie wyłączności, ale tylko kiedy rani i niepokoi, jest pełna - powiedziała niedawno.
Przyjaźń Ewy z dużo młodszym od niej mężczyzną wywołuje mnóstwo emocji. Aktorka żartuje, że gdyby chciała, aby ta przyjaźń przerodziła się w coś więcej, nie miałaby żadnego problemu z faktem, że między nią a Jakubem jest spora różnica wieku.
- Związek dojrzałej kobiety z młodym partnerem jest do zaakceptowania, pod warunkiem, że oboje są w tym związku szczęśliwi - wyznała.
- Kiedy czytamy o takich parach, podniecamy się, że to takie piękne. Ale kiedy widzimy te pary obok, potępiamy je. Doszukujemy się interesowności, skazujemy na niepowodzenie. Nie ma u nas przyzwolenia na tego typu związki - mówi aktorka.
Artykuł pochodzi z kategorii:
Gwiazdy
Agencja W. Impact
polski i
Tele Tydzień
Ogólnotematyczne
Filmowe
Serialowe
Dla dzieci
Sportowe
Muzyczne
Tematyczne
Dokumentalne
Informacyjne
Regionalne
DVB-T
HD
polski i
Tele Tydzień
Ogólnotematyczne
Filmowe
Serialowe
Dla dzieci
Sportowe
Muzyczne
Tematyczne
Dokumentalne
Informacyjne
Regionalne
HD