Gwiazdy

»

Krystyna Janda świętuje 60. urodziny... na scenie
Krystyna Janda świętuje 60. urodziny... na scenie
Wtorek, 18 grudnia 2012 (09:33)
Krystyna Janda, czyli Barbara Lewicka-Lukas z "Bez tajemnic", kończy dziś – 18 grudnia – 60 lat. Aktorka spędzi dzień swych urodzin w Teatrze Polonia, gdzie trwają ostatnie przygotowania do premiery "Zmierzchu długiego dnia" Eugene'a O'Neilla w jej reżyserii.
Zdjęcie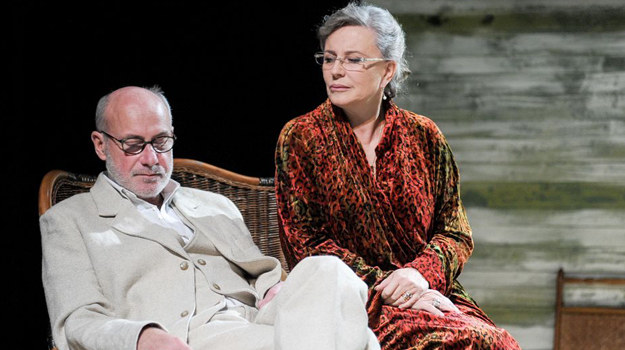 Krystyna Janda i Piotr Machalica w spektaklu "Zmierzch długiego dnia"
"Zmierzch długiego dnia" to jeden z najlepszych amerykańskich dramatów wszech czasów. Sztuka miała swoją światową prapremierę w 1956 roku w Helen Hayes Theatre na nowojorskim Broadwayu, gdzie grana była przy pełnej widowni co wieczór przez 17 miesięcy.  Wyróżniony Nagrodą Pulitzera dramat zaliczanego do grona najwybitniejszych współczesnych pisarzy świata Eugene'a O'Neilla wracał na deski teatrów Nowego Jorku jeszcze cztery razy i zawsze cieszył się ogromnym powodzeniem wśród widzów i krytyków. 

"Zmierzch długiego dnia" opowiada o jednym dniu z życia amerykańskiej rodziny Tyronów - matki uzależnionej od morfiny, ojca alkoholika i ich dwóch synów, którzy także wpadli w szpony nałogu alkoholowego.
Rola Mary Tyron, kobiety z całego serca nienawidzącej teatru i męża-aktora, to prezent urodzinowy, jaki Krystyna Janda zrobiła sobie z okazji 60. urodzin. - Ta rola to wyzwanie dla każdej aktorki. Mnie zagranie jej po 40 latach pracy w teatrze wydało się... zabawne. Mary nienawidzi teatru, uważa, że zabrał jej męża, uśmiercił dziecko i zmarnował najlepsze lata życia - mówiła Krystyna Janda na spotkaniu z przedstawicielami mediów, których zaprosiła na pokaz fragmentów reżyserowanego przez siebie przestawienia.
W Jamesa, męża Mary, wciela się w Teatrze Polonia Piotr Machalica, czyli Hubert Chowaniec w "Komisarzu Aleksie", synów Tyronów grają Rafał Fudalej, czyli Piotr Nasielski z "Paradoksu", i Michał Żurawski, czyli Antoine Duchamp z "Przepisu na życie". Na scenie zobaczymy też Patrycję Szczepanowską, czyli Joanną Skibę z "Plebanii". Premiera spektaklu, którym Krystyna Janda - jako reżyserka i aktorka - postanowiła uczcić swoje 60. urodziny, odbędzie się w najbliższy czwartek, 20 grudnia.
W naszej galerii znajdziecie zdjęcia z prób do "Zmierzchu długiego dnia" w Teatrze Polonia.
Artykuł pochodzi z kategorii:
Gwiazdy
Agencja W. Impact
polski i
Tele Tydzień
Ogólnotematyczne
Filmowe
Serialowe
Dla dzieci
Sportowe
Muzyczne
Tematyczne
Dokumentalne
Informacyjne
Regionalne
DVB-T
HD
polski i
Tele Tydzień
Ogólnotematyczne
Filmowe
Serialowe
Dla dzieci
Sportowe
Muzyczne
Tematyczne
Dokumentalne
Informacyjne
Regionalne
HD