Gwiazdy

»

Musiał chce studiować aktorstwo
Musiał chce studiować aktorstwo
Wtorek, 18 września 2012 (12:01)
Maciej Musiał, czyli Tomek Boski z "rodzinki.pl", ma bardzo ambitne plany na przyszłość. Chciałby studiować aktorstwo w Londynie i zrobić karierę w Hollywood. Wiemy, o czym jeszcze marzy ulubieniec polskich nastolatek!
Zdjęcie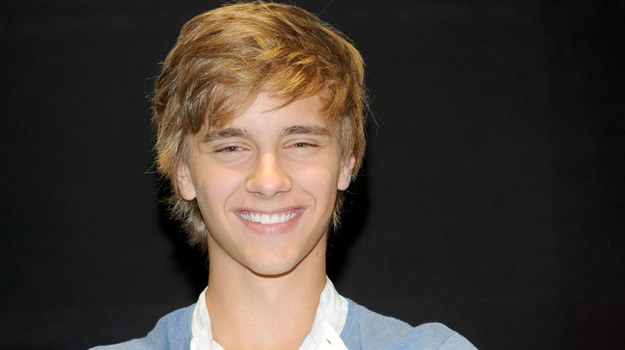 Maciej Musiał
Choć Maciek Musiał ma jeszcze sporo czasu do matury, już dziś bardzo poważnie myśli o tym, co będzie robił po zdaniu egzaminu dojrzałości. Marzy o podjęciu studiów na jednej z najbardziej renomowanych uczelni aktorskich na świecie - Royal Academy of Dramatic Art w Londynie!
Gdyby udało mu się pomyślnie przebrnąć przez egzaminacyjne sito i pokonać kilkanaście tysięcy konkurentów z całego świata ubiegających się o indeks tej prestiżowej szkoły, ma szanse zrobić naprawdę wielką karierę na europejskich scenach. Tyle, że Maciej wcale nie myśli o podboju Europy! Chciałby bowiem wyjechać do Hollywood i tam spróbować swojego szczęścia w dobrych, ambitnych produkcjach.
- Marzę, aby być dobrym aktorem i grać świetne role w świetnych filmach - powiedział niedawno serialowy Tomek Boski z "rodzinki.pl".
Aktorstwo to jednak nie jedyne marzenie Maćka związane z przyszłością.
- Chciałbym też otworzyć własny biznes, w którym zatrudniałbym ludzi z wielką charyzmą i ciekawą osobowością - zwierzył się jednemu z magazynów, choć nie sprecyzował, czym miałaby się zajmować jego firma.
Maciek, jak większość nastolatków, ma głowę pełną fantastycznych marzeń. Za kilka miesięcy skończy 18 lat i chciałby urządzić wielką imprezę urodzinową dla znajomych i przyjaciół, a potem zrobić prawo jazdy, wynająć samochód terenowy i wyjechać z kolegami w długą podróż po Europie.
Artykuł pochodzi z kategorii:
Gwiazdy
Agencja W. Impact
polski i
Tele Tydzień
Ogólnotematyczne
Filmowe
Serialowe
Dla dzieci
Sportowe
Muzyczne
Tematyczne
Dokumentalne
Informacyjne
Regionalne
DVB-T
HD
polski i
Tele Tydzień
Ogólnotematyczne
Filmowe
Serialowe
Dla dzieci
Sportowe
Muzyczne
Tematyczne
Dokumentalne
Informacyjne
Regionalne
HD