Olga Bołądź będzie mamą?
Czwartek, 25 października 2012 (09:21)
Olga Bołądź, czyli Celina Dłużewska z "Czasu honoru", zostanie mamą! Nowina ta lotem błyskawicy obiega właśnie warszawskie salony. Aktorka dotąd nie potwierdziła oficjalnie, że spodziewa się dziecka, ale – jak podaje jeden z tabloidów – jest pewne, że zostanie mamą za 5 miesięcy.
Zdjęcie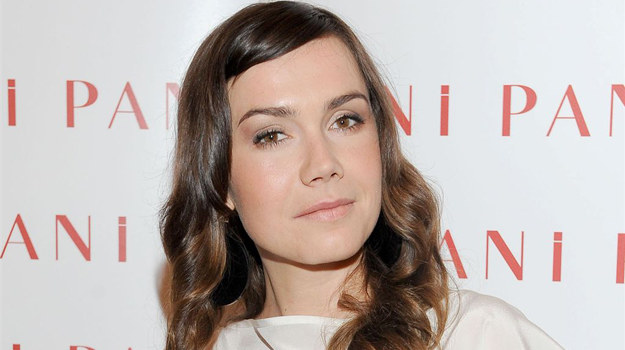 Olga Bołądź
Olga Bołądź to jedna z najbardziej tajemniczych polskich aktorek. Bardzo rzadko udziela wywiadów, a jeśli już zgadza się na rozmowę z dziennikarzami, kategorycznie odmawia mówienia o swoim życiu prywatnym i mężczyznach, z którymi się spotyka.
W maju ubiegłego roku cała Polska emocjonowała się rzekomym ślubem aktorki z bogatym biznesmenem. Plotkowano, że Olga wyszła za mąż w światowej stolicy hazardu, Las Vegas, co okazało się nieprawdą. Wcześniej mówiono o tym, że spotyka się z Kubą Wojewódzkim, u boku którego miała leczyć rany po rozstaniu z amerykańskim aktorem Maksem Ryanem. Niedawno natomiast spekulowano, że Olga Bołądź znalazła swoją drugą połówkę w osobie sporo od niej młodszego studenta dziennikarstwa, tajemniczego Rafała, i jest bardzo szczęśliwa u jego boku. Podobno to właśnie on jest ojcem dziecka, które aktorka urodzi za niespełna pół roku.
Według jednego z tabloidów związek Olgi i Rafała jest już historią, a gwiazda "Czasu honoru" zdecydowała, że sama wychowa swoje dziecko.
Olga Bołądź pojawiła się niedawno na premierze filmu "Obława" oraz na promocji nowej powieści Katarzyny Grocholi, z którą przyjaźni się od czasu, gdy obie występowały w show "Taniec z gwiazdami". Nikt z obecnych na tych imprezach osób nie zauważył, że aktorka jest w ciąży. Lada moment jednak bardzo trudno jej będzie ukryć, że szykuje się do najważniejszej w swoim życiu roli - do roli mamy.


Artykuł pochodzi z kategorii:
Gwiazdy
Agencja W. Impact
polski i
Tele Tydzień
Ogólnotematyczne
Filmowe
Serialowe
Dla dzieci
Sportowe
Muzyczne
Tematyczne
Dokumentalne
Informacyjne
Regionalne
DVB-T
HD
polski i
Tele Tydzień
Ogólnotematyczne
Filmowe
Serialowe
Dla dzieci
Sportowe
Muzyczne
Tematyczne
Dokumentalne
Informacyjne
Regionalne
HD