Gwiazdy

»

Olga Bołądź czyta erotyk!
Olga Bołądź czyta erotyk!
Środa, 14 listopada 2012 (15:48)
Olga Bołądź, która za kilka miesięcy zostanie mamą, nie zwalnia tempa pracy. Przed aktorką kolejne wyzwanie. W studiu dźwiękowym Film Factory Studio, należącym do Beaty Kawki, nagrywa audiobooka. I bynajmniej nie są to bajki dla dzieci, ale erotyk.
Zdjęcie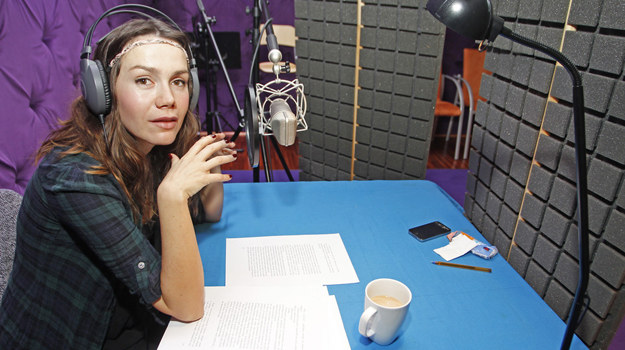 Olga Bołądź
- "Dotyk Crosaa" Sylvii June Day to mój drugi audiobook, ale erotyk czyta się zupełnie inaczej. W książce jest dużo opisów erotyki i zmysłowości, co z pewnością nie jest łatwo napisać, jeszcze trudniej przetłumaczyć, a co dopiero przeczytać. Muszę tak operować głosem, aby czytelnik podążył za tą historią. Wyobrażam sobie, że ktoś jedzie samochodem i słucha, a ktoś inny leży na kanapie w domu. Ja jestem tylko przekaźnikiem. Czasami w dialogach oddaję tempo, sens rozmowy. Oddaję głosem emocje, kiedy bohaterowie się ze sobą kłócą, ale opisy czy stany wewnętrzne mają swój rytm. Tu pole oddaję czytelnikowi. To własność jego wyobraźni i niech tak zostanie. To jest najpiękniejsze w audiobookach - mówi Bołądź. 
Przygotowując się do nowej roli, aktorka przeczytała osiemdziesiąt pierwszych stron bestsellerowej powieści by, jak mówi, móc sobie wymyślić bohaterów. - W książce uderza obustronna fascynacja i erotyka, która pulsuje, jest wilgotna, mokra, bardzo zmysłowa. "Dotyk Crossa" jest takim przechodzeniem przez zmysłowość. To, czego można zazdrościć tym bohaterom to ogromnego pociągu seksualnego, który mają do siebie na początku. Sama jestem ciekawa, czy ta ich zmysłowość cały czas będzie silna, czy będzie trzeba ją podsycać. - mówi aktorka.
Jeśli znaleźć tytuł książki, która oddałaby charakter Olgi Bołądź to jedną z nich jest z pewnością "Grzeczne dziewczynki idą do nieba, niegrzeczne idą tam, dokąd chcą". Olga uśmiecha się na taką charakterystykę, ale przyznaje: - Ludzie mogą różnie nas oceniać, ale to my rozliczamy się z naszych wyborów sami przed sobą. Niech więc sobie mówią, co chcą. To nasze życie. Jest jedno. Nie mamy więcej. Sami musimy się odważyć na to, aby żyć. Po swojemu. Nie ma innej rady - podkreśla Bołądź.

Artykuł pochodzi z kategorii:
Gwiazdy
polski i
Tele Tydzień
Ogólnotematyczne
Filmowe
Serialowe
Dla dzieci
Sportowe
Muzyczne
Tematyczne
Dokumentalne
Informacyjne
Regionalne
DVB-T
HD
polski i
Tele Tydzień
Ogólnotematyczne
Filmowe
Serialowe
Dla dzieci
Sportowe
Muzyczne
Tematyczne
Dokumentalne
Informacyjne
Regionalne
HD