Gwiazdy

»

Pokerzysta Wojtek Łozowski
Pokerzysta Wojtek Łozowski
Czwartek, 13 grudnia 2012 (17:56)
To był debiut-marzenie. Wokalista Afromental i juror "Tylko muzyka. Must be the music", Wojtek Łozowski, na turnieju pokera w Pradze zajął 18. miejsce i zgarnął 15650 euro.
Zdjęcie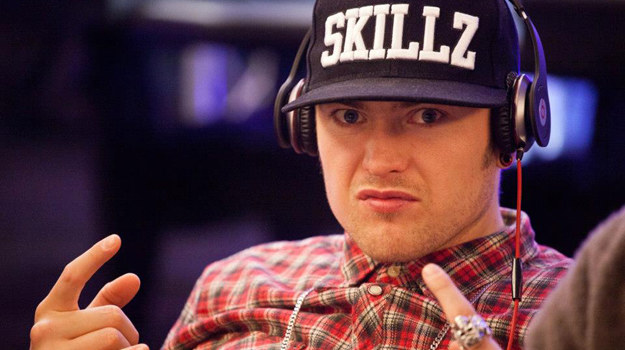 Wojtek "Łozo" Łozowski na turnieju w Pradze
W Pradze podczas turnieju z cyklu WPT Tour przy stołach usiadło 567 graczy, wśród nich Wojtek Łozowski. Grano w odmianę pokera Texas Hold'em.

- To był jego pierwszy turniej rangi światowej - mówi menadżer, Adam Szarmach - 18. miejsce jest bezwzględnie sukcesem, tym bardziej, że Wojtek startował  z wieloma bardzo doświadczonymi graczami.
Wojtek Łozowski został wyeliminowany przez Konstantina Danilova w 5. dniu turnieju. Przegrał o włos, jego przeciwnik miał dwie pary - Wojtek Łozowski tylko parę.

Jak zapowiada wokalista Afromental, na pewno nie będzie to jego ostatni zawodowy turniej w karierze. Co ciekawe, turniej w Pradze wygrał Polak - Marcin Wydrowski, który zarobił 325 tys. euro.

Najbliższa szansa, by zobaczyć Afromental z Wojtkiem Łozowskim na scenie już podczas Sylwestrowej Mocy Przebojów 31 grudnia w Polsacie.


Artykuł pochodzi z kategorii:
Gwiazdy
materiały prasowe
polski i
Tele Tydzień
Ogólnotematyczne
Filmowe
Serialowe
Dla dzieci
Sportowe
Muzyczne
Tematyczne
Dokumentalne
Informacyjne
Regionalne
DVB-T
HD
polski i
Tele Tydzień
Ogólnotematyczne
Filmowe
Serialowe
Dla dzieci
Sportowe
Muzyczne
Tematyczne
Dokumentalne
Informacyjne
Regionalne
HD