Gwiazdy

»

Uczesz się jak znane gwiazdy!
Uczesz się jak znane gwiazdy!
Poniedziałek, 31 grudnia 2012 (09:37)
Oszałamiającą karierę robi ostatnio na stołecznych salonach niepozorny... koczek. Marta Żmuda Trzebiatowska, czyli Monika Miller z "Julii", twierdzi, że upięcie go zajmuje jej tylko kilka chwil. A efekt? Oceńcie sami...
Zdjęcie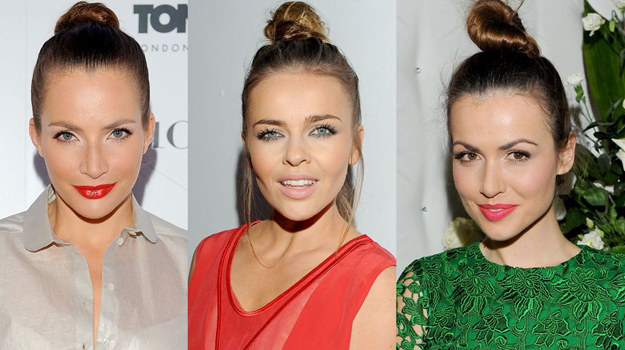 Anna Dereszowska, Edyta Herbuś, Marta Żmuda Trzebiatowska
Jeśli nie macie jeszcze pomysłu, jak uczesać się na Sylwestra, zajrzyjcie koniecznie do naszej galerii - znajdziecie w niej zdjęcia znanych z seriali gwiazd, które nie mają wątpliwości, jaka fryzura będzie najmodniejsza w nadchodzącym karnawale!
Musi być niewielki i koniecznie upięty na czubku głowy, pasuje do każdej kreacji i - co chyba najważniejsze - jest naprawdę bardzo wygodny. Koczek. To właśnie on stał się w ostatnich miesiącach prawdziwą... gwiazdą.
Marta Żmuda Trzebiatowska, czyli Monika Miller z "Julii", czuła się w nim komfortowo na bankiecie po premierze farsy "Ślub doskonały" w Teatrze Kwadrat, Anna Dereszowska, czyli Magda Soszyńska z "Na dobre i na złe", zaprezentowała własną wersję koka podczas pokazu Jungle Gardenia, Edyta Herbuś, czyli Marta Orłowska z "Klanu", uznała, że koczek najlepiej pasuje do sukni projektu Macieja Zienia, którą założyła na pokaz nowej kolekcji projektanta, Joanna Koroniewska, czyli Małgosia Mostowiak z "M jak miłość", uczesana w koczek prowadziła galę Eska Music Awards 2012 w Kołobrzegu, a Sonia Bohosiewicz, czyli Aida Misztal z "Aidy", w koku przyszła na prezentację kolekcji Łukasza Jemioła.
Wielką fanką koczka jest też Agnieszka Wagner, czyli Karolina Fuks z "Komisarza Aleksa". Ostatnio upięła go, wybierając się na Bohoboco Fashion Show. Z kolei Marta Wierzbicka, czyli Aleksandra Zimińska z "Na Wspólnej", szpanowała kokiem na gali Plejada Top Ten.
Gwiazdy, pytane o koki, zgodnie twierdzą, że to najwygodniejsza fryzura, przy tym niezwykle prosta do zrobienia i bardzo efektowna. Jedno jest pewne - Jego Wysokość Koczek - królować będzie w karnawale nawet na najelegantszych balach!
Artykuł pochodzi z kategorii:
Gwiazdy
Agencja W. Impact
polski i
Tele Tydzień
Ogólnotematyczne
Filmowe
Serialowe
Dla dzieci
Sportowe
Muzyczne
Tematyczne
Dokumentalne
Informacyjne
Regionalne
DVB-T
HD
polski i
Tele Tydzień
Ogólnotematyczne
Filmowe
Serialowe
Dla dzieci
Sportowe
Muzyczne
Tematyczne
Dokumentalne
Informacyjne
Regionalne
HD