Gwiazdy

»

Urszula Chincz lubi tradycyjne święta
Urszula Chincz lubi tradycyjne święta
Poniedziałek, 17 grudnia 2012 (16:01)
Urszula Chincz, gwiazda "Pytania na śniadanie", mówi nam, co przygotowuje na Wigilię i dlaczego nie śpiewa kolęd.
Zdjęcie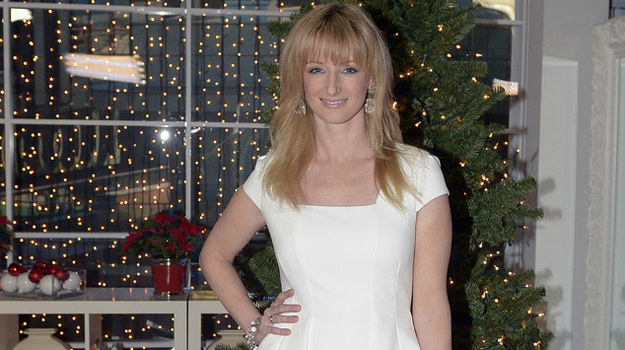 – W sobotnim "Pytaniu na śniadanie" będzie dużo porad: jak ubierać choinkę, pakować prezenty, przygotować stół na wieczerzę – mówi Urszula Chincz.
Jak wyglądają Pani święta Bożego Narodzenia?
- Tradycyjnie i rodzinnie. Od kilku lat spędzamy je w moim domu z rodziną męża i moim tatą.
Wyobraża sobie Pani, by na ten czas wyjechać gdzieś w ciepłe kraje?
- Gdy ulegam gorączce zakupów i przygotowań, to obiecuję sobie, że już w następnym roku gdzieś wyjadę. Ale tradycja jest silniejsza.

Jako dziecko pisała Pani listy do świętego Mikołaja?
- Dość długo w niego wierzyłam, przeszło mi dopiero około 7-8 roku życia. Moje listy były bardzo długaśne.

A jakie są listy Pani synka?
- Rysio w styczniu skończy 4 latka i jego marzenia związane są głównie z klockami Lego.
Co Pani radzi, jakie prezenty kupować pod choinkę?
- Chciane. Dlatego dobrze jest pisać listy do świętego Mikołaja. U nas w domu zawsze ta tradycja funkcjonowała. Ja teraz najbardziej lubię dostawać perfumy.

W czasie Wigilii kolędujecie?
- Nie, ponieważ talent muzyczny mojej rodziny jest bardzo ograniczony. Nie mogłabym brać udziału w żadnym talent show. Zazwyczaj włączamy piękną płytę z kolędami, np. w wykonaniu zespołu Mazowsze.

Gotuje Pani 12 potraw?
- Szczerze mówiąc, mam rolę wspomagającą. W czasie Wigilii moi teściowie są szefami kuchni. Znakomicie gotują. Ja robię tylko śledzie z cebulką w oliwie i zupę grzybową. Za to dbam o dekorację i dodatki. Mam dom w stylu country, do którego ładnie pasują słomiane ozdoby.
A co Pani najlepiej lubi jeść w ten wigilijny wieczór?
- Jestem wielką amatorką śledzi. Uwielbiam też pierogi z kapustą i grzybami.
Rozmawiała Ewa Modrzejewska
"Pytanie na śniadanie" w sobotę, 22 grudnia o godz. 8:00 na antenie TVP 2.

Artykuł pochodzi z kategorii:
Gwiazdy

polski i
Tele Tydzień
Ogólnotematyczne
Filmowe
Serialowe
Dla dzieci
Sportowe
Muzyczne
Tematyczne
Dokumentalne
Informacyjne
Regionalne
DVB-T
HD
polski i
Tele Tydzień
Ogólnotematyczne
Filmowe
Serialowe
Dla dzieci
Sportowe
Muzyczne
Tematyczne
Dokumentalne
Informacyjne
Regionalne
HD