Z miłości do... wina
Czwartek, 17 listopada 2011 (11:40)
Znany z wielu wspaniałych kreacji filmowych Marek Kondrat, czyli niezapomniany Olgierd Halski z "Ekstradycji", napisał swoją pierwszą książkę... kulinarną! W środę aktor spotkał się z fanami, by osobiście polecić im "Odkrywanie smaku".
Zdjęcie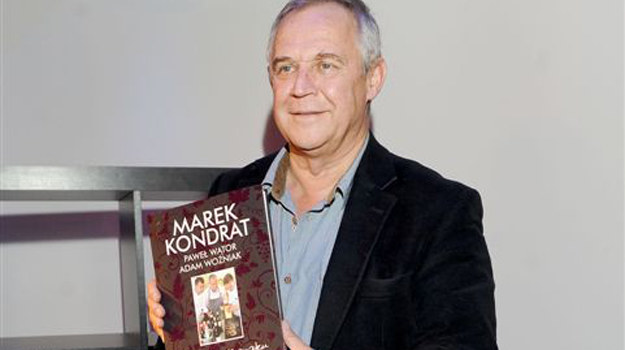 Marek Kondrat
- Zachęcam wszystkich, by szukali własnych niepowtarzalnych smaków, łączyli je i próbowali bawić się gotowaniem - powiedział podczas spotkania Marek Kondrat.
"Odkrywanie smaku" to pierwsza książka z przepisami autorstwa tego świetnego aktora. Powstała na zamówienie i z miłości do... wina.
- Dostałem propozycję, aby dobrać wina do dań z menu przygotowywanego dla nowego hotelu na Wybrzeżu. Podjąłem się tego, ale nie przypuszczałem, że to z pozoru rutynowe zadanie spowoduje, że zacznę eksperymentować w poszukiwaniu idealnego smaku - mówił Kondrat.
Książka, którą napisał razem z szefami kuchni restauracji hotelu Hilton Gdańsk, jest - co autorzy wielokrotnie podkreślali na spotkaniu z czytelnikami - próbą odnalezienia czasu dla siebie i bliskich, pomysłem na miłe spędzenie wolnych chwil.
- Gotowanie wcale nie musi być nudne - twierdzi Marek Kondrat.
- Nasza książka to doskonały poradnik dla tych wszystkich, którzy chcieliby odejść od skostniałych ogólnie obowiązujących w kuchni kanonów - podkreślał.
Przypomnijmy, że Marek Kondrat jakiś czas temu wycofał się z aktorstwa. Jest właścicielem ogólnopolskiej sieci sklepów z winami, które sam odnajduje w najlepszych winnicach świata, selekcjonuje i poleca swoim klientom.
- Musiało minąć wiele lat, zanim odnalazłem swoją pasję. Coś musiałem przeżyć, coś zrozumieć by móc określić swoje potrzeby na tzw. "jesień życia". Czego dziś mi trzeba: ciszy, ładu, poczucia trwałości, otaczającej urody natury. Wszystko to znalazłem w winie. Nie chodzi mi tylko o jego smak i codzienne towarzyszenie głównym posiłkom - twierdzi Kondrat.
Artykuł pochodzi z kategorii:
Gwiazdy
Agencja W. Impact
polski i
Tele Tydzień
Ogólnotematyczne
Filmowe
Serialowe
Dla dzieci
Sportowe
Muzyczne
Tematyczne
Dokumentalne
Informacyjne
Regionalne
DVB-T
HD
polski i
Tele Tydzień
Ogólnotematyczne
Filmowe
Serialowe
Dla dzieci
Sportowe
Muzyczne
Tematyczne
Dokumentalne
Informacyjne
Regionalne
HD