Gwiazdy

»

Zawadzka napisała wspomnienia o mężu
Zawadzka napisała wspomnienia o mężu
Poniedziałek, 2 stycznia 2012 (09:50)
Magdalena Zawadzka, czyli niezapomniana Baśka Wołodyjowska z "Przygód pana Michała", napisała książkę o swoim zmarłym trzy i pół roku temu mężu, Gustawie Holoubku.
Zdjęcie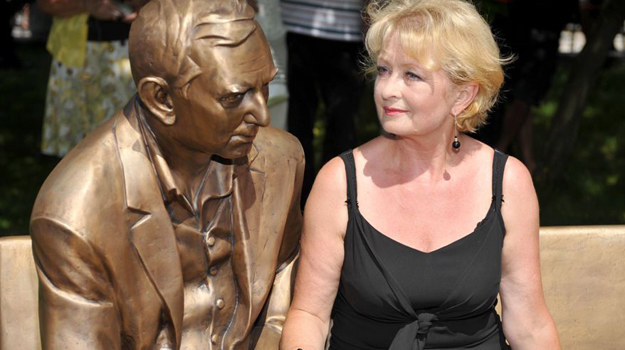 Wspomnienia zatytułowane "Gustaw i ja" aktorka zaczęła pisać tuż po śmierci męża.
- Ta książka to efekt moich emocji i bólu. Pisanie jej dawało mi poczucie, że Gucio wciąż jest przy mnie - mówi Magdalena Zawadzka.
Kilka lat temu aktorka zadebiutowała jako pisarka zbiorem felietonów "Kij w mrowisko".
- Swój pierwszy tekst literacki poświęciłam... mężowi - wspomina.
- Kilka lat temu zostałam zaproszona do udziału w programie poświęconym Gustawowi. Poproszono mnie, bym wygłosiła mowę pochwalną na jego cześć. Wydało mi się wtedy, że chwalenie własnego męża, w dodatku przy licznie zgromadzonej publiczności i w obecności telewizyjnych kamer, jest wysoce niestosowne. Postanowiłam więc napisać żartobliwy referat na temat cech charakteru i przyzwyczajeń Gustawa, o których wiem tylko ja. Mój debiut literacki spotkał się z bardzo życzliwym przyjęciem. Kilka tygodni później redaktor naczelna jednego ze znanych i lubianych pism zaproponowała mi współpracę. Dostrzegła we mnie felietonistkę. "Kij w mrowisko" to zbiór felietonów, które opublikowałam w prasie - opowiada aktorka.
Książka "Gustaw i ja" to bardzo osobiste wspomnienia Magdaleny Zawadzkiej na temat 35 lat jej wspólnego życia z Gustawem Holoubkiem.
- To były piękne lata - mówi niezapomniana Baśka Wołodyjowska.
- Dzięki mężowi nabrałam dystansu do swojego zawodu i przekonałam się, że zagranie czy niezagranie tej lub innej roli nie jest najważniejszą rzeczą w życiu, że liczy się przede wszystkim szczęście najbliższych - twierdzi.
Artykuł pochodzi z kategorii:
Gwiazdy
Agencja W. Impact
polski i
Tele Tydzień
Ogólnotematyczne
Filmowe
Serialowe
Dla dzieci
Sportowe
Muzyczne
Tematyczne
Dokumentalne
Informacyjne
Regionalne
DVB-T
HD
polski i
Tele Tydzień
Ogólnotematyczne
Filmowe
Serialowe
Dla dzieci
Sportowe
Muzyczne
Tematyczne
Dokumentalne
Informacyjne
Regionalne
HD