Pieniądze na wesoło "Spokojnie, to tylko ekonomia"
Pieniądze na wesoło "Spokojnie, to tylko ekonomia"
Wtorek, 26 lutego 2013 (14:48)
Jolanta Fraszyńska i Tomasz Karolak stworzyli... bardzo przeciętną polską rodzinę. Wszystko po to, by w nowym mini serialu pokazać widzom na własnej skórze, że ekonomia nie jest nauką trudną, nie ma nic wspólnego z czarną magią i że każda rodzina chcąc nie chcąc ma z nią do czynienia na co dzień.
Zdjęcie
Serial "Spokojnie, to tylko ekonomia" będzie się składać z dwudziestu trzyminutowych odcinków. Ma ważną misję – w prosty i doprawiony niemałą dawką humoru sposób pokaże Polakom, że z ekonomią spotykają się niemal codziennie: płacąc swoje rachunki, wypełniając przelewy bankowe czy zastanawiając się, jak najkorzystniej ulokować i pomnożyć swoje oszczędności.
Konkretna babka
Główne role zagrają Jolanta Fraszyńska, czyli Roma z "Licencji na wychowanie", Tomasz Karolak, czyli Ludwik Boski z "rodzinki.pl" oraz Kuba Jankiewicz, znany jako Antek z "M jak miłość".
Obok nich pojawi się sam Wojciech Pokora. Gościnne role zagrają także Weronika Rosati i Edyta Herbuś. Tomasz Karolak i Jolanta Fraszyńska wspólne zdjęcia zaczęli od... sceny łóżkowej.
– Lubię takie konkretne babki – śmiał się aktor. Choć dotąd nie miał okazji pracować z Jolantą Fraszyńską, przyznaje, że wiele ich łączy – mają wspólnych znajomych, wiele podobnych doświadczeń, odwiedzają te same miejsca...
– Atmosfera jest super, a Tomek to marzenie – jest idealny do współpracy. Nadaje ton i rytm pracy – przyznaje aktorka. Dociekliwy syn Oboje są też pod wrażeniem talentu 10-letniego Kuby. To właśnie on, jako serialowy syn, zadaje im niezwykle dociekliwe pytania z ekonomii.
ANNA JANIAK
Zdjęcie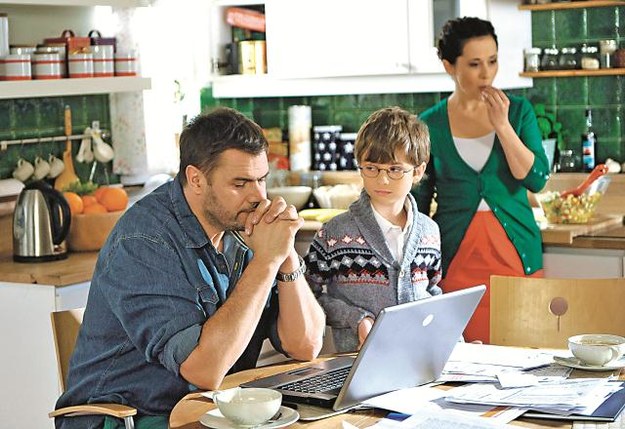 Tomasz Karolak ma doświadczenie w graniu głowy rodziny. Jak poradzi sobie z ekonomią?
Artykuł pochodzi z kategorii:
Rozmaitości

Tagi:

gospodarka

,

Weronika Rosati

,

serial

,

pieniądze

,

Jolanta Fraszyńska

,

Kora

,

Boski

,

Kuba

,

Antek

,

atmosfera

,

rosati
polski i
Tele Tydzień
Ogólnotematyczne
Filmowe
Serialowe
Dla dzieci
Sportowe
Muzyczne
Tematyczne
Dokumentalne
Informacyjne
Regionalne
DVB-T
HD
polski i
Tele Tydzień
Ogólnotematyczne
Filmowe
Serialowe
Dla dzieci
Sportowe
Muzyczne
Tematyczne
Dokumentalne
Informacyjne
Regionalne
HD