Ratują życie
Czwartek, 28 lutego 2013 (11:40)
Zdjęcie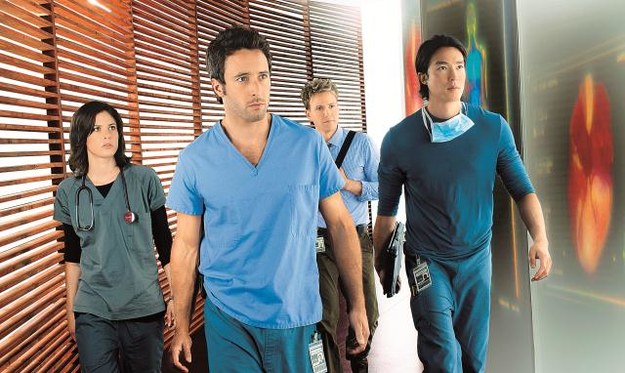 Dr Andy (Alex O'Loughlin, w środku) i jego zespół specjalizują się w przeszczepach.
Przeszczep to dla jednych sposób na uratowanie życia, dla innych dramatyczna decyzja o oddaniu narządu umierającego bliskiego.
Czym jest dla lekarza sytuacja, w której o życiu chorego decyduje przekonanie dawców i biorców, że to jedyne wyjście? Na to pytanie próbują odpowiedzieć twórcy serialu "Szpital Three Rivers".
Każdy z trzynastu odcinków to inny przypadek, któremu twórcy przyglądają się zarówno ze strony pacjenta, jak i lekarza. Główną rolę gra Alex O'Loughlin.
Jako doktor Andy Yablonski nadzoruje zespół lekarzy, do którego należą zbuntowana doktor Miranda Foster (Katherine Moennig) i uwodzicielski doktor David Lee (Daniel Henney). W pierwszym odcinku zmierzą się z problemem studentki, która wymaga przeszczepu obu płuc.
AJ
Artykuł pochodzi z kategorii:
Rozmaitości

polski i
Tele Tydzień
Ogólnotematyczne
Filmowe
Serialowe
Dla dzieci
Sportowe
Muzyczne
Tematyczne
Dokumentalne
Informacyjne
Regionalne
DVB-T
HD
polski i
Tele Tydzień
Ogólnotematyczne
Filmowe
Serialowe
Dla dzieci
Sportowe
Muzyczne
Tematyczne
Dokumentalne
Informacyjne
Regionalne
HD