Świąteczna "Bitwa na głosy"
Piątek, 23 listopada 2012 (13:12)
Zaledwie dzień po finale uczestnicy trzeciej edycji "Bitwy na głosy" stawili się w studiu telewizyjnym, żeby nagrać odcinek specjalny. W bajecznej scenografii, wśród płatków śniegu, choinek i srebrnych bombek zaśpiewali najpiękniejsze piosenki związane ze Świętami.
Zdjęcie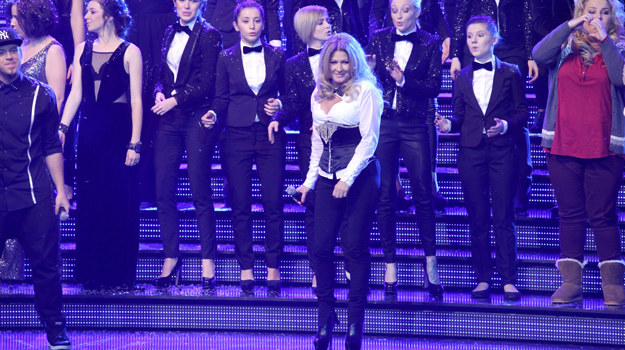 Beata Kozidrak i jej ekipa z Lublina w wieczorowych strojach
Na dobry początek - "Love Is All Around" ("Miłość jest wszędzie") zespołu Wet Wet Wet w wykonaniu wszystkich uczestników koncertu. Potem będą występy drużyn Beaty Kozidrak, Andrzeja Piasecznego, Libera oraz Tomsona i Barona z Afromental. Wszyscy przygotowali po dwie piosenki - jedną, którą wykonywali w ramach programu oraz premierową, specjalnie pod kątem tego koncertu.

Beata Kozidrak pokaże skalę swojego głosu w hicie "O tobie" oraz oczaruje nas wyjątkową wersją kolędy "Cicha noc". Z kolei Liber znów zapragnie się zakochać, śpiewając piosenkę Robbie'go Williamsa "Feel" (słyszeliśmy ją w pierwszym półfinale) oraz przypomni przebój Skaldów "Z kopyta kulig rwie". Muzycy z Afromental rozbujają widzów przy dźwiękach przeboju Alicji Keys "If I Ain't Got You" (widzieliśmy ten występ w 4. odcinku show), a jako niespodziankę przygotowali hit Mariah Carey "All I Want For Christmas Is You", czyli "Wszystko, czego pragnę na Święta, to ty"!
Gość specjalny wieczoru
Największą atrakcją wieczoru będzie z pewnością występ Andrzeja Piasecznego z drużyną - zwycięzców trzeciej edycji "Bitwy na głosy". Ale nie tylko. Na scenie pojawi się gość specjalny! ... Ale po kolei. Andrzej Piaseczny wraz z przyjaciółmi z Kielc oczaruje widzów hitem "Somebody To Love" zespołu Queen oraz nieśmiertelnym przebojem Wham "Last Christmas". To jednak nie wszystko. Wraz z Sewerynem Krajewskim zaśpiewa "Wielkie świąteczne całowanie", pierwszy singiel z ich nowej, wspólnej płyty "Zimowe piosenki". Na finał usłyszymy wzruszającą balladę Seweryna Krajewskiego "Jest taki dzień". Łezka zakręci się w oku.

Świąteczny odcinek "Bitwy na głosy" zobaczymy w Dwójce w sobotę 22 grudnia o godzinie 20:10.
Marzena Juraczko

Artykuł pochodzi z kategorii:
Bitwa na głosy

polski i
Tele Tydzień
Ogólnotematyczne
Filmowe
Serialowe
Dla dzieci
Sportowe
Muzyczne
Tematyczne
Dokumentalne
Informacyjne
Regionalne
DVB-T
HD
polski i
Tele Tydzień
Ogólnotematyczne
Filmowe
Serialowe
Dla dzieci
Sportowe
Muzyczne
Tematyczne
Dokumentalne
Informacyjne
Regionalne
HD