Rozrywka

»

Coraz mniej gotowania w "Kuchennych rewolucjach"
Coraz mniej gotowania w "Kuchennych rewolucjach"
Środa, 23 maja 2012 (15:23)
Magda Gessler jest kimś więcej niż mistrzynią kuchni. Jest higienistką, która uczy restauratorów mycia podłogi i psychologiem, który godzi skłócone rodziny. Jej program zdobywa coraz to nowych widzów, ale grono niechętnych też szybko rośnie!
Zdjęcie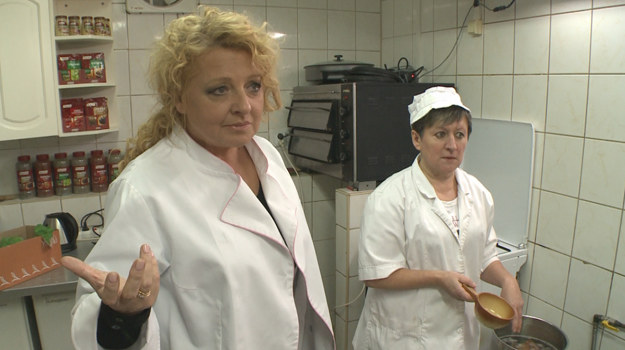 Najbardziej kontrowersyjne są blond loki znanej restauratorki. Fora internetowe aż kipią od głosów, że Magda Gessler powinna nosić czepek. Nie ma mowy. Burza włosów, ostry język, dramatyczne gesty - to jej znaki firmowe. "Kuchenne rewolucje" wrzą od konfliktów, napięcia, a to przyciąga widzów - blisko 3 miliony. Ma większą publiczność niż grono słynnych showmanów i ich pupili w "X Factor"! 
Więcej przekleństw
Program pojawił się na antenie TVN wiosną 2010 r. Znana warszawska restauratorka odwiedzała małe lokale, których właściciele mieli kłopoty z ich utrzymaniem. Radziła, co poprawić w menu, co w wystroju restauracji. Zachowanie Magdy Gessler dalekie było od telewizyjnej grzeczności znanej np. z "Dzień dobry TVN". Rugała właścicieli lokali gastronomicznych za brud, używanie produktów niskiej jakości, za złe menu. Po prostu przeklinała.

Lista pretensji
Popularność programu szybko znalazła oddźwięk w fali plotek. Mówiono, że restauracje, które poddały się poradom Magdy, bankrutują. Potem zaczęto pisać, że udział w programie jest płatny (restauratorzy wykładają po 100 tys.). Ostatnie odcinki cyklu nasycone były ludzkimi problemami. W zasadzie specjalistka od gastronomii znalazła się w roli psychologa! Zarzucono jej, że pewne osobiste wypowiedzi bohaterów są nagrane bez ich zgody, niejako wymuszane. A oglądalność rosła!

Znowu w drodze
Ostatni raz przed wakacjami Gessler uda się do Koszalina. Będzie pomagać barowi Fregata. A potem wejdzie na plan: ruszyły zdjęcia do 6. serii "Kuchennych rewolucji".
"Kuchenne rewolucje" w czwartek, 24 maja o godz. 21:30 na antenie TVN.

Artykuł pochodzi z kategorii:
Kuchenne rewolucje

polski i
Tele Tydzień
Ogólnotematyczne
Filmowe
Serialowe
Dla dzieci
Sportowe
Muzyczne
Tematyczne
Dokumentalne
Informacyjne
Regionalne
DVB-T
HD
polski i
Tele Tydzień
Ogólnotematyczne
Filmowe
Serialowe
Dla dzieci
Sportowe
Muzyczne
Tematyczne
Dokumentalne
Informacyjne
Regionalne
HD