Bliss w "Must be the music"
Sobota, 17 marca 2012 (06:00)
Program "Tylko muzyka" słynie z tego, że występują w nim zespoły i artyści dobrze znani fanom muzyki w konkretnych kręgach.
Zdjęcie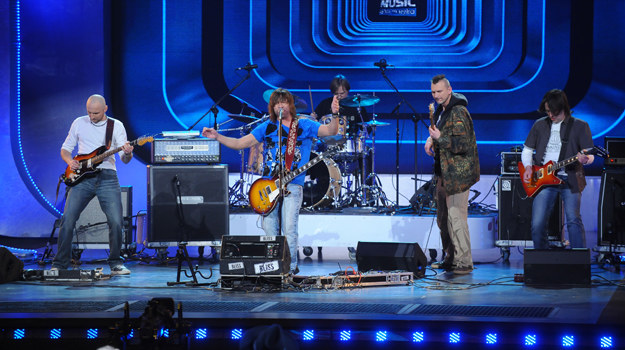 Bliss
Nazywa się Juliusz Kamil Kuźnik i pochodzi z Zabrza. Śpiewa od wielu lat zawodowo, wygrał już "Szansę na sukces", startował w opolskich Debiutach, występował też z chórkach Maryli Rodowicz - w niedzielę zobaczymy go z zespołem Bliss w "Tylko muzyka. Must be the music".

Bliss to 5 muzyków, liderem jest Juliusz Kamil Kuźnik, zawodowy muzyk i wokalista, który ukończył wydział jazzu katowickiej Akademii Muzycznej. Panowie tworzą własną muzykę i również własny utwór zaprezentowali w niedzielnym odcinku "Tylko muzyka. Must be the music". Pamiętacie, jak w grudniu pisaliśmy o tym, że Maria Niklińska i Andżelika Piechowiak wystąpiły w teledysku do piosenki "It's got nothin' 2 do with New York" z repertuaru właśnie grupy Bliss?
- Ten facet długo się przebija w naszej branży i może to ten moment wreszcie, czego ci bardzo, Kamil, życzę - powiedział po jego występie juror Adam Sztaba.

- Pozdrawiam moją byłą szefową Marylę Rodowicz. Musiałem postawić wszystko na jedną kartę i tą kartą jest mój obecny zespół Bliss. Rozstaliśmy się w zgodzie i mam nadzieję, że Maryla trzyma za mnie kciuki. Mam nadzieję, że to będzie ten rok, ten moment, w którym Bliss zagości w finale "Must be the music" i w sercach słuchaczy - zakończył swój występ Kamil.


Artykuł pochodzi z kategorii:
Must be the music. Tylko muzyka
polski i
Tele Tydzień
Ogólnotematyczne
Filmowe
Serialowe
Dla dzieci
Sportowe
Muzyczne
Tematyczne
Dokumentalne
Informacyjne
Regionalne
DVB-T
HD
polski i
Tele Tydzień
Ogólnotematyczne
Filmowe
Serialowe
Dla dzieci
Sportowe
Muzyczne
Tematyczne
Dokumentalne
Informacyjne
Regionalne
HD