Bajki dla niesłyszących w TV
Poniedziałek, 11 czerwca 2012 (12:44)
MiniMini+ i teleTOON+ jako pierwsze w Polsce podjęły nie lada wyzwanie. Stacje te wprowadziły udogodnienia dla dzieci z dysfunkcją słuchu.
Zdjęcie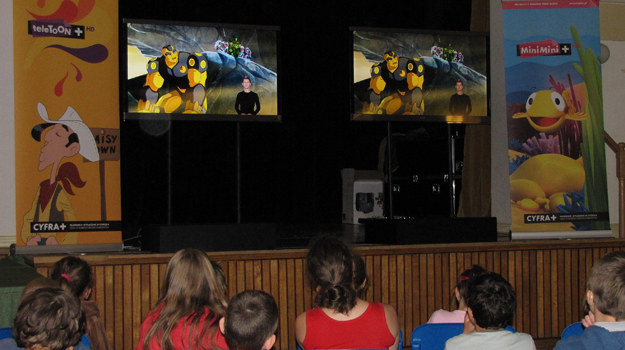 Pokaz bajek z tłumaczeniem na język migowy w Instytucie Głuchoniemych w Warszawie
Od 7 czerwca najmłodsi głuchoniemi widzowie mogą oglądać niektóre bajki, nic nie tracąc z ich treści. Specjalnie dla nich popularne seriale animowane tłumaczone są na język migowy. Dwie pierwsze animacje wprowadzone w wersji migowej to "Raa Raa - mały, hałaśliwy lew" i "Gormiti III - Nowa ewolucja". Bajka o niesfornym lwie adresowana jest do przedszkolaków, natomiast "Gormiti" to kultowy wśród dzieci w wieku szkolnym przygodowy serial fantasy.

- Nasz projekt jest nowatorski, nie tylko w Polsce, ale i w Europie. Jako pierwszy w kraju nadawca dziecięcy aktywnie włączamy się w walkę z cyfrowym wykluczeniem osób z dysfunkcją słuchu. Dzięki naszej inicjatywie dzieci niesłyszące będą mogły swobodnie oglądać bardzo atrakcyjne programy, które dotąd były dostępne jedynie dla dzieci bez wad słuchu - mówi Marta Szwakopf, Dyrektor MiniMini+ i teleTOON+. I dodaje: - Aby zapewnić najwyższy poziom tłumaczeń współpracujemy w tym projekcie z certyfikowanymi specjalistami języka migowego, a naszym partnerem została Fundacja Widzialni.
Pierwsze opinie o bajkach z tłumaczeniem migowym wyrażały dzieci, dla których zorganizowano specjalny pokaz z okazji Dnia Dziecka w Instytucie Głuchoniemych w Warszawie. Młoda widownia reagowała bardzo entuzjastycznie. Po prezentacji odbyła się rozmowa na temat przedstawionych animacji - blisko pięćdziesięcioro dzieci oceniało jakość tłumaczenia.

- Tłumaczenie bajek na język migowy to wielkie wyzwanie. Dzieci są surowymi krytykami, nie znają kompromisów i zawsze mówią to, co myślą. Tym bardziej cieszą pozytywne opinie, które najmłodsi wyrazili podczas testowego pokazu w Instytucie Głuchoniemych - mówi Artur Marcinkowski, Przewodniczący Rady Fundacji Widzialni, która jest partnerem projektu.
Warto przy okazji dodać, że Canal+ emituje wszystkie polskie premiery filmowe z napisami w specjalnej wersji dla niesłyszących. W 2012 została wprowadzona pionierska usługa dla osób niewidzących i niedowidzących - filmy z audiodeskrypcją. Tym samym CANAL+ Cyfrowy jako nadawca telewizyjny włącza się w walkę z wykluczeniem cyfrowym osób z upośledzeniem wzroku i słuchu.

Artykuł pochodzi z kategorii:
Rozrywka
polski i
Tele Tydzień
Ogólnotematyczne
Filmowe
Serialowe
Dla dzieci
Sportowe
Muzyczne
Tematyczne
Dokumentalne
Informacyjne
Regionalne
DVB-T
HD
polski i
Tele Tydzień
Ogólnotematyczne
Filmowe
Serialowe
Dla dzieci
Sportowe
Muzyczne
Tematyczne
Dokumentalne
Informacyjne
Regionalne
HD