Czekamy na mistrzów kuchni
Środa, 14 listopada 2012 (12:24)
Jeszcze nigdy gotowanie nie wywoływało takich emocji, a to za sprawą dwóch programów kulinarnych, takich jak "MasterChef" i "Polski turniej wypieków".
Zdjęcie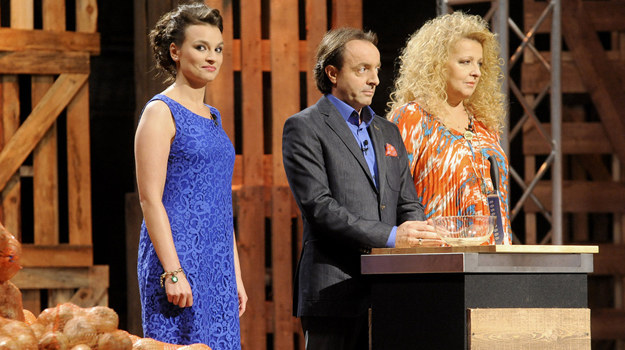 Jury "MasterChef": Anna Starmach, Michel Moran, Magda Gessler
Klasyczny program kulinarny wygląda w ten sposób: ktoś gotuje coś na ekranie, a potem zachwala, jakie to smaczne. Nuda! Na szczęście tej jesieni mogliśmy oglądać zupełnie nowe show o gotowaniu i pieczeniu, oparte na innej, konkursowej (i o niebo ciekawszej!) formule. Teraz "Polski turniej wypieków" i "MasterChef" zmierzają ku finałowi i wreszcie dowiemy się, kto piecze i gotuje najlepiej w kraju.
Podopieczni Magdy Gessler
Przez pierwszy odcinek przewinęło się ich stu. Do finałowego dotrze tylko trójka. Przed nami półfinał w Hiszpanii, w którym uczestnicy będą mieli za zadanie odtworzyć potrawę przygotowaną przez tamtejszego mistrza kuchni Jordiego Cruza. A to nie będzie łatwe! Z kolei w ostatnim odcinku finaliści będą musieli m.in. przygotować uroczystą kolację w zamku... Będzie się działo! Możemy się spodziewać zaciętej walki, bo nagrodą jest nie tylko tytuł pierwszego polskiego MasterChefa, ale też 100 tysięcy złotych i własna książka kucharska. A jurorzy na finiszu na pewno nie będą ułatwiać pracy zawodnikom...

Nikt nie ma wątpliwości, że to Marta Grycan była główną gwiazdą programu TLC. Swoją osobowością zdominowała nie tylko bardziej doświadczonego kolegę, Piotra Gąsowskiego, ale nawet jurorów, którzy są przecież najlepszymi mistrzami cukiernictwa w kraju. Zobaczymy, czy przyćmi też zwycięzcę, a raczej zwyciężczynię, bo w finale programu znalazły się same panie.
Marta Drelich

Artykuł pochodzi z kategorii:
Rozrywka

polski i
Tele Tydzień
Ogólnotematyczne
Filmowe
Serialowe
Dla dzieci
Sportowe
Muzyczne
Tematyczne
Dokumentalne
Informacyjne
Regionalne
DVB-T
HD
polski i
Tele Tydzień
Ogólnotematyczne
Filmowe
Serialowe
Dla dzieci
Sportowe
Muzyczne
Tematyczne
Dokumentalne
Informacyjne
Regionalne
HD