Rozrywka

»

Daniel Craig, Maciej Zakościelny i Doda w "O tym się mówi"
Daniel Craig, Maciej Zakościelny i Doda w "O tym się mówi"
Piątek, 26 października 2012 (13:11)
Sesja do nowego Kalendarza Dżentelmeni, pokaz mody Macieja Zienia oraz wywiad z Danielem Craigiem - to wszystko zobaczymy w najnowszym odcinku "O tym się mówi".
Zdjęcie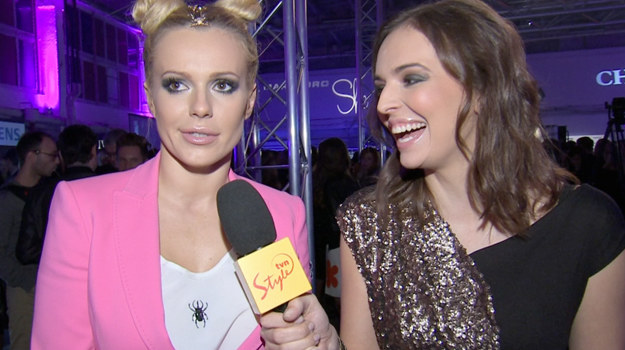 Anna Wendzikowska i Doda
Anna Wendzikowska pojechała z kamerą za kulisy najnowszego pokazu Macieja Zienia. Jaka atmosfera panowała w garderobach? Co mówił projektant tuż przed rozpoczęciem pokazu? Co Doda chciała założyć na tę okazję i dlaczego się to nie udało?
Prowadząca "O tym się mówi" nie mogła ominąć jednego z najważniejszych kinowych wydarzeń tego roku. Już w najbliższy piątek zadebiutuje na ekranach kin 23 część przygód Agenta 007 - Jamesa Bonda. Z okazji premiery "Skyfall" Ania osobiście spotkała się z odtwórcą głównej roli Danielem Craigiem, jego filmowymi dziewczynami - Berenice Marlohe i Naomi Harris oraz największym wrogiem, którego zagrał Javier Bardem. Daniel Craig opowiedział jak to jest być agentem 007, a jego nowa ukochana zdradziła Ani, jak całuje się człowiek z licencją na zabijanie.
Twórcy jednego z najsłynniejszych polskich kalendarzy już szykują wydanie na nowy rok. Anna Wendzikowska wybrała się na plan sesji do Kalendarza Dżentelmeni. Maciej Zakościelny i Piotr Adamczyk zdradzili jej temat przewodni tegorocznej edycji oraz odpowiedzieli na wiele intymnych pytań.

Jeśli chcecie zobaczyć gwiazdy ekranu  w niecodziennych stylizacjach, oglądajcie kolejny odcinek "O tym się mówi" w najbliższą niedzielę, 28 października o godz. 13:45 na antenie TVN Style.

Artykuł pochodzi z kategorii:
Rozrywka
polski i
Tele Tydzień
Ogólnotematyczne
Filmowe
Serialowe
Dla dzieci
Sportowe
Muzyczne
Tematyczne
Dokumentalne
Informacyjne
Regionalne
DVB-T
HD
polski i
Tele Tydzień
Ogólnotematyczne
Filmowe
Serialowe
Dla dzieci
Sportowe
Muzyczne
Tematyczne
Dokumentalne
Informacyjne
Regionalne
HD