Rozrywka

»

Finał "Perfekcyjnej Pani Domu"
Finał "Perfekcyjnej Pani Domu"
Poniedziałek, 12 listopada 2012 (12:11)
Ostatni odcinek nie oznacza jednak końca programu. To już pewne: wiosną będzie kolejna edycja "Perfekcyjnej Pani Domu". Z tą samą gospodynią!
Zdjęcie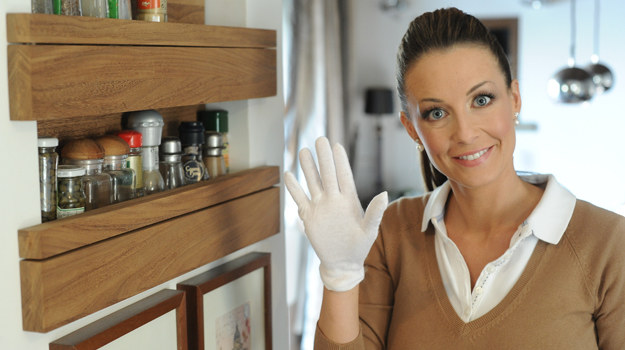 Największy postrach budzi test białej rękawiczki
Spodziewano się sukcesu, ale jego rozmiar zaskoczył nawet wszechwładnych dyrektorów TVN. Małgorzata Rozenek i prowadzony przez nią program "Perfekcyjna Pani Domu" były gwiazdami jesiennej ramówki. To dlatego jeszcze przed końcem serii zapadła decyzja: kręcimy kolejną! 
Dwie kobiety i ich problemy
Kogo zobaczymy w ostatnim odcinku? Dwie zupełnie różne kobiety: nastolatkę oraz kobietę dojrzałą. Marysia z Grajewa ma 19 lat i jest mamą dwuletniego synka. Rola pani domu nieco ją przerosła! Razem z mężem, równolatkiem, szybko wkroczyli w dorosłość i zostali rodzicami. Prowadzenie domu i jednoczesne bycie mamą to duże wyzwanie dla kobiety, która ciągle gdzieś w środku czuje się zbuntowaną nastolatką. Teraz nastał dla niej czas by zmierzyć się ze światem dorosłych.

Ona jedna i ich dwóch
Katarzyna z Ostródy to 37-letnia księgowa. W domu ma dwóch mężczyzn: męża, który pracuje jako kucharz w restauracji i 12-letniego syna. Kasia w pracy jest dobrze zorganizowana i zdyscyplinowana. W domu jest inaczej. Sprzątanie odbywa się dwa razy do roku. W międzyczasie domownicy uładzają z grubsza, upychając wszystkie niepotrzebne przedmioty do jednego wolnego pokoju, tzw. graciarni. Syn Kasi uczy się od rodziców takiego prowadzenia domu! Czy pojawienie się perfekcyjnej pani domu zmieni ten stan rzeczy?

Będzie kolejny sukces?
Każdy odcinek "Perfekcyjnej Pani Domu" oglądało średnio 1,3 miliona osób. W poniedziałki o tej porze nie było innego programu o lepszej oglądalności!
- Jesteśmy zadowoleni z wyników oglądalności tego programu - mówi Bogdan Czaja, wicedyrektor do spraw programowych w TVN i ogłasza: - Będzie trzecia edycja "Perfekcyjnej Pani Domu" prowadzonej przez Małgorzatę Rozenek.

Beata Modrzejewska
"Perfekcyjna Pani Domu", poniedziałki godz. 22:30, TVN

Artykuł pochodzi z kategorii:
Rozrywka

polski i
Tele Tydzień
Ogólnotematyczne
Filmowe
Serialowe
Dla dzieci
Sportowe
Muzyczne
Tematyczne
Dokumentalne
Informacyjne
Regionalne
DVB-T
HD
polski i
Tele Tydzień
Ogólnotematyczne
Filmowe
Serialowe
Dla dzieci
Sportowe
Muzyczne
Tematyczne
Dokumentalne
Informacyjne
Regionalne
HD