Rozrywka

»

Kasia Klich wywołuje awantury
Kasia Klich wywołuje awantury
Poniedziałek, 17 września 2012 (12:19)
Pamiętacie program "Nie mów pannie młodej"? TLC będzie miało dla swoich widzów kolejny serial tego typu. Tym razem będzie on dotyczył remontu mieszkania.
Zdjęcie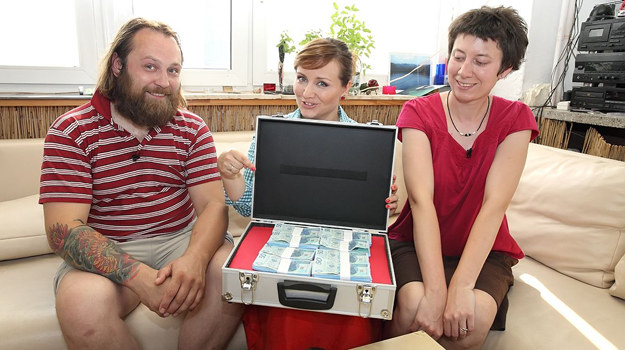 Katarzyna Klich będzie miała swój udział w awanturach o remont
"Polaków awantury o remont" to polska edycja programu "Awantura o remont", w którym uczestnicy decydują się zrobić remont swojego gniazdka przy finansowym wsparciu TLC. Tak jak w przypadku serii "Nie mów pannie młodej" tu również czeka ich mała niespodzianka...
Bohaterowie programu otrzymają 40 tys. złotych na przeprowadzenie remontu swoich mieszkań, będą jednak mieli na to zaledwie 21 dni, a wszelkie decyzje będzie podejmowała tylko jedna osoba. Choć pewnie nie za często się to zdarza na co dzień, tym razem wybór będzie należał wyłącznie do... mężczyzn.
Podczas gdy panowie będą się głowić nad doborem kolorów, mebli i dodatków, dziewczyny dostaną do zaprojektowania repliki swoich mieszkań. Kłopot w tym, że zamieszkają jednak w tym zaprojektowanym przez swoich mężczyzn i nie będą miały w tej kwestii nic do powiedzenia. W rolę prowadzącej program wcieli się znana z zamiłowania do wnętrzarstwa gwiazda muzyki pop Kasia Klich, która będzie odwiedzać kolejne pary z walizką pełną pieniędzy.
W programie poznamy m.in. Basię i Tomka, którzy postanowili wyremontować swoje 4 kąty. Trzytygodniowa rozłąka była dla nich niezwykle uciążliwa, szczególnie, że para pobrała się zaledwie dwa miesiące wcześniej. Znając dobrze zamiłowanie Tomka do ryb, Basia bardzo obawiała się, czy w odnowionej kuchni nie pojawi się przypadkiem gigantyczne ścienne akwarium. Tomek niewątpliwie ją zaskoczy. Tylko czy ze swoim alternatywnym pomysłem trafi w jej gust?

Czy bohaterowie programu znają swoje partnerki na tyle dobrze, by spełnić ich oczekiwania? Czy wiedzą o jakich mieszkaniach marzą? Czy czekają ich uściski
i gratulacje, czy raczej niezadowolone miny ich dziewczyn lub żon? Bez wątpienia udział w programie będzie dla nich nie lada sprawdzianem.

"Polaków awantury o remont" już od piątku 28 września, o godz. 21:30, TLC


Artykuł pochodzi z kategorii:
Rozrywka
polski i
Tele Tydzień
Ogólnotematyczne
Filmowe
Serialowe
Dla dzieci
Sportowe
Muzyczne
Tematyczne
Dokumentalne
Informacyjne
Regionalne
DVB-T
HD
polski i
Tele Tydzień
Ogólnotematyczne
Filmowe
Serialowe
Dla dzieci
Sportowe
Muzyczne
Tematyczne
Dokumentalne
Informacyjne
Regionalne
HD