Na zakupy z Bosacką
Wtorek, 23 października 2012 (12:17)
Katarzyna Bosacka, prowadząca program "Wiem, co jem, i wiem, co kupuję" radzi, jak robić zakupy.
Zdjęcie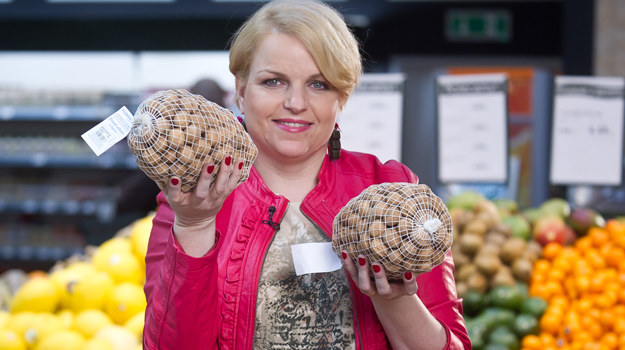 Katarzyna Bosacka czuje się rzecznikiem wszystkich klientów.
Prowadzi Pani program "Wiem, co jem i wiem, co kupuję". Jakie tematy znajdzie tu widz?
- Jest to przewodnik po tym, na co zwracać uwagę, kupując produkty żywnościowe oraz wszelkie inne - od żarówek, poprzez środki przeciwbólowe, mydło, papier toaletowy, aż po tanią odzież. Znajdziemy tu odpowiedzi na pytania takie, jak: czy mydło wyszczuplające naprawdę wyszczupli, czy krem na cellulit go usunie, czy warto kupować najdroższe perfumy? 
Jakie produkty robią nas "w balona"?
- Np. kremy pod oczy. Malutka tubka, 30 ml, może kosztować nawet 300 zł, więc mamy poczucie, że dostajemy mocno skoncentrowany produkt, który naprawdę skutecznie działa. Tymczasem kremy pod oczy są bardzo dokładnie badane przez okulistów i dermatologów. Oczy to są otwarte błony śluzowe i żaden mocny składnik nie przeszedłby przez tę kontrolę. Krem pod oczy ma słabsze działanie niż normalny krem do twarzy!

Na które jeszcze produkty powinniśmy zwracać większą uwagę?
- Zdecydowanie na wędliny, które okazują się coraz bardziej "wegetariańskie". Znajdziemy w nich soję, błonnik grochowy, pszenny lub bambusowy! Bambus to w tej chwili najtańszy wypełniacz. Wygląda prawie jak mięso. Starty na papkę z mięsem daje poczucie, że jemy kawałek naprawdę dobrej wędliny.

A co Pani sądzi o parówkach, które lubią dzieci?
- Są dobre, czyli takie, które mają 96% zawartości mięsa, albo złe, które mają 58% mięsa oddzielonego mechanicznie (MOM), czyli tłuszczu, chrzęści, kuperków, oczu itp. Matki je kupują w przekonaniu, że są zdrowe dla dzieci.

Jak reagują na Panią ludzie w sklepach?
- Zaglądają mi do koszyka! Ale mam wrażenie, że z sympatią. Jestem przecież po ich stronie.
Rozmawiała Marta Uler

Artykuł pochodzi z kategorii:
Rozrywka

polski i
Tele Tydzień
Ogólnotematyczne
Filmowe
Serialowe
Dla dzieci
Sportowe
Muzyczne
Tematyczne
Dokumentalne
Informacyjne
Regionalne
DVB-T
HD
polski i
Tele Tydzień
Ogólnotematyczne
Filmowe
Serialowe
Dla dzieci
Sportowe
Muzyczne
Tematyczne
Dokumentalne
Informacyjne
Regionalne
HD