Rozrywka

»

Odmieniona "Kawa czy herbata?"
Odmieniona "Kawa czy herbata?"
Poniedziałek, 27 sierpnia 2012 (14:20)
Poranny program telewizyjnej Jedynki "Kawa czy herbata?" po wakacyjnej przerwie powraca odmieniony. Na pewno będzie mniej prowadzących, ale z pewnością bardziej różnorodne programy.
Zdjęcie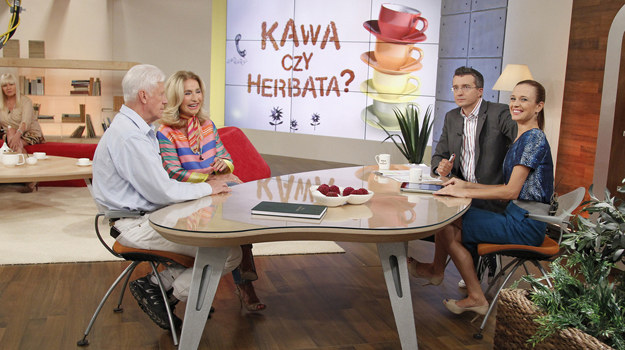 Nowe studio "Kawy czy herbaty?"
- Okazało się, że widzowie potrzebują mniej osób prowadzących, ale chcą częściej się z nimi spotykać. Teraz zostały tylko trzy pary: Klaudia Carlos i Paweł Pochwała, Paulina Chylewska i Grzegorz Miśtal oraz Agata Konarska i Artur Orzech. Zaproponujemy widzom bardziej różnorodne tematy. Nie rezygnujemy z rozrywki i poradnictwa, ponieważ naszym widzom to się podoba, ale w tym sezonie stawiamy także na informacje i publicystykę. Chcemy być naprawdę misyjni i robić to estetyczniej - powiedziała redaktor prowadząca program, Agnieszka Prokopowicz. 
- Zmieniła się także scenografia, wróciliśmy do klimatów bardziej domowych. Teraz w naszym studio jest trochę cieplej, przyjaźniej, przytulniej - dodaje Paulina Chylewska.

"Kawa czy herbata?" właśnie obchodzi swoje dwudziestolecie. Z tej okazji twórcy programu zapraszają do studia gości związanych z programem, a także z telewizją w ogóle, i starają się podsumować minione lata. Wśród nich w studio gościli m.in. Halszka Wasilewska, Maria Szabłowska, Janusz Zaorski, Bogumiła Wander i Krzysztof Baranowski.

"Kawa czy herbata", od poniedziałku do piątku, godz. 6:00, TVP 1

Artykuł pochodzi z kategorii:
Rozrywka
polski i
Tele Tydzień
Ogólnotematyczne
Filmowe
Serialowe
Dla dzieci
Sportowe
Muzyczne
Tematyczne
Dokumentalne
Informacyjne
Regionalne
DVB-T
HD
polski i
Tele Tydzień
Ogólnotematyczne
Filmowe
Serialowe
Dla dzieci
Sportowe
Muzyczne
Tematyczne
Dokumentalne
Informacyjne
Regionalne
HD