Ruszyły już nowe "Fakty"!
Czwartek, 4 października 2012 (14:48)
Wystartowały odświeżone "Fakty" TVN. Poza nową czołówką i oprawą dźwiękową pojawiła się w studio ogromna ściana wideo. Polska stacja jako pierwsza w Europie rozpoczęła korzystanie z tego typu instalacji.
Zdjęcie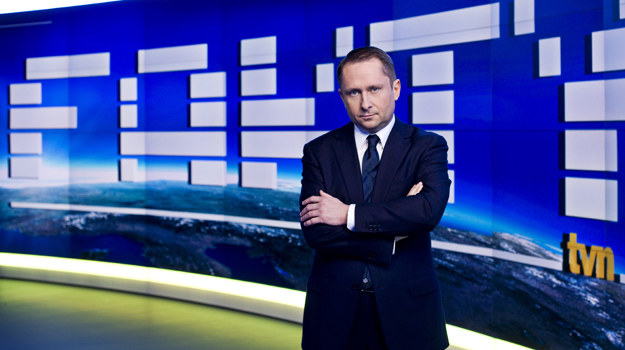 Kamil Durczok w nowym studiu "Faktów"
Nowe studio jest efektem wielomiesięcznych przygotowań. Jego budowa trwała 4 miesiące, a na czas remontu przeniesiono produkcję "Faktów" do wirtualnego studia. Prace nad nową odsłoną programu były bardzo intensywne, gdyż twórcy chcieli zdążyć na 15. urodziny "Faktów" i telewizji TVN, które przypadły w środę, 3 października.
Jedna z najważniejszych zmian, jakie zaszły w studio, to pojawienie się ogromnego ekranu na centralnej ścianie (tzw. videowall). Jest to pierwsza tego typu instalacja w europejskiej telewizji. Podobny system posiada tylko katarska telewizja Al Jazeera. Ekran mierzy 17 metrów i zbudowany jest z 64 monitorów. 
Warto dodać, że poprzednia instalacja miała ich zaledwie 5. 
- Przejście wzdłuż niego zabierało chwilę. Teraz prowadzący musi zrobić ok. 20 kroków, co może skutkować zadyszką przy nagrywaniu krótkich wejść - opowiada Paweł Wolański, szef realizacji TVN 24. Do obsłużenia ogromnej ściany wyświetlającej grafikę i wideo potrzebne są aż dwa potężne komputery, a elementy do jej budowy przywiezione zostały z Belgii.
Oprócz nowego ekranu gruntownie uaktualniona została także scenografia serwisu. W nowej wersji zadbano o wiele detali, które są istotne w przypadku nadawania programu w HD.

Szef "Faktów" Kamil Durczok zapowiada jednak, że mimo wizualnych atrakcji najważniejsze rzeczy pozostaną w programie niezmienne: - Nadal będziemy docierali do sedna sprawy, bez względu na to, jak sprytnie politycy próbują od tego uciekać. Nie zmieni się też zespół. To, co jest naszą siłą, nadal nią będzie.
Z nowego studia "Faktów" korzystać będzie także TVN 24. Twórcy kanału przygotowują dla widzów niespodziankę. Stacja już wkrótce rozpocznie nadawanie w HD, a miałoby to się stać na przełomie 2012/2013 r.

mj
Artykuł pochodzi z kategorii:
Rozrywka
polski i
Tele Tydzień
Ogólnotematyczne
Filmowe
Serialowe
Dla dzieci
Sportowe
Muzyczne
Tematyczne
Dokumentalne
Informacyjne
Regionalne
DVB-T
HD
polski i
Tele Tydzień
Ogólnotematyczne
Filmowe
Serialowe
Dla dzieci
Sportowe
Muzyczne
Tematyczne
Dokumentalne
Informacyjne
Regionalne
HD