Rozrywka

»

Koroniewska i Moro-Figurska w "Pytaniu na śniadanie"?
Koroniewska i Moro-Figurska w "Pytaniu na śniadanie"?
Piątek, 17 sierpnia 2012 (15:05)
Jak informują media, znana z serialu "M jak miłość" i programu rozrywkowego "Kocham Cię Polsko!" Joanna Koroniewska poprowadzi od września… "Pytanie na śniadanie". Niewykluczone jest także to, że pracę w Dwójce rozpocznie Odeta Moro-Figurska.
Zdjęcie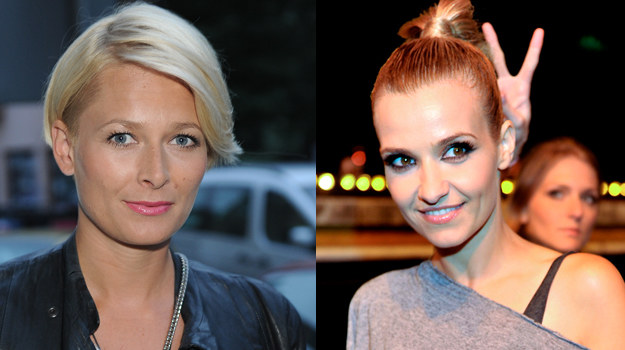 Odeta Moro-Figurska i Joanna Koroniewska
Z popularnego programu śniadaniowego TVP 2 odeszły ostatnio dwie prowadzące. Beata Sadowska i Agnieszka Szulim nie będą już budzić widzów Dwójki. Władze TVP postanowiły więc poszukać dla pań zastępstwa. Jak informują tabloidy wybór padł na Joannę Koroniewską.
Kariera Joanny rozwija się ostatnio w zawrotnym tempie. Gra w najpopularniejszym polskim serialu. Prowadzi program "Matka czy nastolatka" w kobiecej stacji TLC oraz jest kapitanką jednej z drużyn w "Kocham Cię Polsko!" w TVP 2.  Świetnie poradziła sobie także podczas gali Eska Music Awards, kiedy wraz z Jankesem była gospodynią wieczoru. To właśnie ten występ "na żywo" miał utwierdzić włodarzy TVP 2 w przekonaniu, że Koroniewska jest idealną kandydatką do poprowadzenia "Pytania na śniadanie".
A co na to sama zainteresowana? Joanna Koroniewska podobno odmówiła przyjęcia nowego wyzwania zawodowego. Jak powiedziała jednemu z portali internetowych Joanna Pilarowska (związana z "Pytaniem na śniadanie"), Koroniewska nie pojawi się w programie w roli prowadzącej.
- Zastanawialiśmy się nad wieloma osobami. Nie możemy jednak podać jeszcze konkretnych nazwisk - dodała Pilarowska.
Kto poprowadzi od września "Pytanie na śniadanie"? Jak mówi się nieoficjalnie, pracę znajdzie tam Odeta Moro-Figurska. Dziennikarka prowadziła w TVP 1 "Kawę czy herbatę", jednak po ostatnich zmianach związanych z oszczędnościami rozstała się z programem.  Czy Moro-Figurska stworzy nowy duet z Tomaszem Kammelem? Na odpowiedź, przyjdzie nam jeszcze poczekać.
mj


Artykuł pochodzi z kategorii:
Pytanie na śniadanie
polski i
Tele Tydzień
Ogólnotematyczne
Filmowe
Serialowe
Dla dzieci
Sportowe
Muzyczne
Tematyczne
Dokumentalne
Informacyjne
Regionalne
DVB-T
HD
polski i
Tele Tydzień
Ogólnotematyczne
Filmowe
Serialowe
Dla dzieci
Sportowe
Muzyczne
Tematyczne
Dokumentalne
Informacyjne
Regionalne
HD