Kaśka w ciąży!
Poniedziałek, 12 listopada 2012 (09:11)
Wkrótce na jaw wyjdzie, że Kasia Górka, w którą Katarzyna Glinka wciela się w serialu "Barwy szczęścia", spodziewa się dziecka! Sprawdź, kto jest ojcem?
Zdjęcie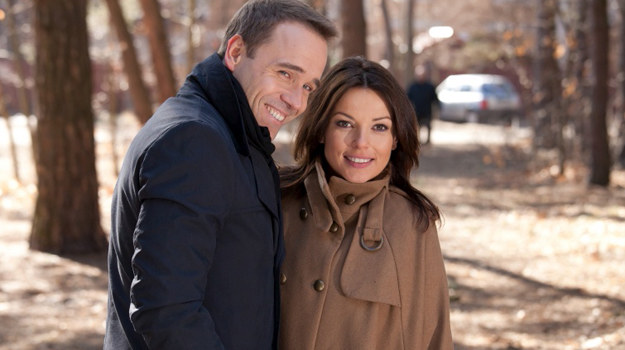 Kasia (Katarzyna Glinka) i Sławek (Łukasz Nowicki)
Ujawniamy, że Stefan (Krzysztof Kiersznowski), tata Kaśki, ucieszy się niezmiernie na wieść, że w końcu zostanie dziadkiem. Wniebowzięta jedynaczka poinformuje go o tym w 828. odcinku "Barw szczęścia" (emisja w czwartek 22 listopada). Stefan będzie przekonany, że jej ciąża to owoc miłości ze Sławkiem (Łukasz Nowicki). Pogratuluje więc zdziwionemu Wolskiemu ojcostwa.Ten uda się do Kaśki po wyjaśnienia, zapewniając ją jednocześnie, że oczywiście weźmie odpowiedzialność za dziecko. - Dziecko jest tylko moje i chcę wychować je sama - usłyszy w odpowiedzi prawnik.
Co to może oznaczać? Zdradzamy, że Kasia Górka w ciążę zaszła w wyniku zapłodnienia in vitro. Ciekawe, co powiedzą na to Stefan Górka i Sławomir Wolski?
Artykuł pochodzi z kategorii:
Barwy szczęścia
Agencja W. Impact
polski i
Tele Tydzień
Ogólnotematyczne
Filmowe
Serialowe
Dla dzieci
Sportowe
Muzyczne
Tematyczne
Dokumentalne
Informacyjne
Regionalne
DVB-T
HD
polski i
Tele Tydzień
Ogólnotematyczne
Filmowe
Serialowe
Dla dzieci
Sportowe
Muzyczne
Tematyczne
Dokumentalne
Informacyjne
Regionalne
HD