Seriale

»

"Czas honoru": Nie o to walczyli...
"Czas honoru": Nie o to walczyli...
Poniedziałek, 14 maja 2012 (15:15)
W Warszawie i w Puszczy Kampinoskiej rozpoczęły się zdjęcia do 5. serii "Czasu honoru". Cichociemni poznają w niej gorzki smak wolności.
Zdjęcie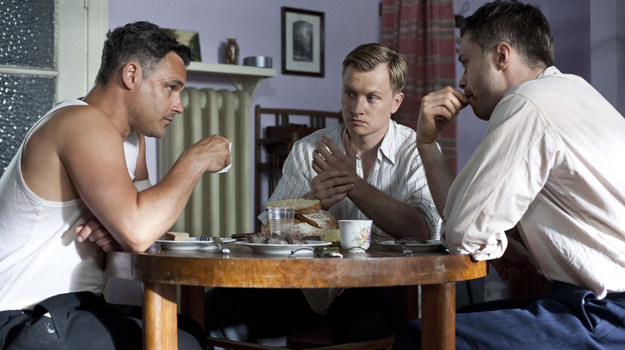 Czy Władek, Michał i Bronek zdecydują się na ucieczkę z kraju?
Czterej młodzi bohaterowie przeżyją do końca wojny. Wiadomość o klęsce III Rzeszy zastanie ich w różnych miejscach: Janka (Antoni Pawlicki) w obozie jenieckim, Bronka (Maciej Zakościelny) ukrywającego się pod Warszawą, Władka (Jan Wieczorkowski) i Michała (Jakub Wesołowski) w oddziale partyzanckim. 
Każdy z nich będzie musiał odpowiedzieć sobie na zasadnicze pytanie: co robić dalej? Zostać w kraju, licząc na to, że mimo komunistycznych rządów da się tu jakoś ułożyć życie? A może jednak trzeba będzie uciec za granicę? Emocji na pewno nie zabraknie, bo sowieckie służby bezpieczeństwa spróbują zdemaskować i ująć ludzi uważanych za wyjątkowo niebezpiecznych przeciwników nowej władzy. Premiera piątej serii jest planowana na jesień.

IP
Artykuł pochodzi z kategorii:
Czas honoru

polski i
Tele Tydzień
Ogólnotematyczne
Filmowe
Serialowe
Dla dzieci
Sportowe
Muzyczne
Tematyczne
Dokumentalne
Informacyjne
Regionalne
DVB-T
HD
polski i
Tele Tydzień
Ogólnotematyczne
Filmowe
Serialowe
Dla dzieci
Sportowe
Muzyczne
Tematyczne
Dokumentalne
Informacyjne
Regionalne
HD