Kret i Torres w "Galerii"
Piątek, 23 listopada 2012 (10:39)
Wśród przyjaciół, którzy pojawią się na otwarciu restauracji Michała Lorena (Rafał Cieszyński), zobaczymy Jose Torresa i Jarosława Kreta.
Zdjęcie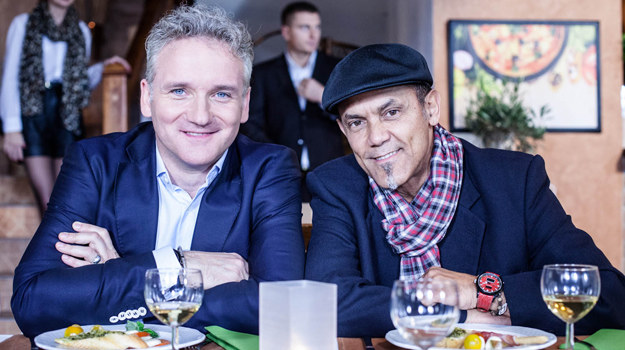 Jarosław Kret i Jose Torres w gościnnych rolach w "Galerii"
/
Grzegorz Gołębiowski
/
ATM
Otwarcie włoskiej restauracji nastąpi w odcinku emitowanym 19 grudnia.  
Dla Jose Torresa nie był to pierwszy występ na planie. Na swoim koncie ma nawet nagrodę aktorską za grę w teledysku. Natomiast Jarosław Kret debiutował w "Galerii".
- W dodatku był to debiut, w którym straciłem głos - śmieje się kilka dni po zdjęciach, gdy wyzdrowiał. - Ale mimo to uważam, że udany. Dostałem rolę, w której rozwijałem swoje poczucie humoru. Sporo żartowaliśmy z Jose Torresem. Myślę, że to dobrze, bo nie umiem uczyć się tekstu na pamięć. Wolę improwizować - przyznaje znany prezenter, podróżnik i pisarz. Obecnie pracuje nad dwiema książkami, które ukażą się na początku roku - "Madagaskar" i "Moje wspomnienia kulinarne z Indii". Potem planuje podróż do Tunezji i książkę o Saharze.
Oprócz Torresa i Kreta, na otwarcie restauracji przybędzie kilkadziesiąt osób - bliskich i przyjaciół Michała. Będzie też Karolina (Magdalena Turczeniewicz) i ku jej niemiłemu zaskoczeniu Anita (Julia Pietrucha). Gdy dziewczyny się spotkają atmosfera zrobi się bardzo gorąca.
"Galeria", od poniedziałku do czwartku, godz. 18:45, TVP 1

Artykuł pochodzi z kategorii:
Galeria
polski i
Tele Tydzień
Ogólnotematyczne
Filmowe
Serialowe
Dla dzieci
Sportowe
Muzyczne
Tematyczne
Dokumentalne
Informacyjne
Regionalne
DVB-T
HD
polski i
Tele Tydzień
Ogólnotematyczne
Filmowe
Serialowe
Dla dzieci
Sportowe
Muzyczne
Tematyczne
Dokumentalne
Informacyjne
Regionalne
HD